I can't keep missing this!!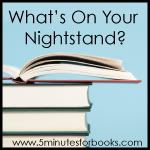 I wasn't prepared for
What's on Your Nightstand
popping up today but I'm going to dive on in just the same. This past week I've felt a little disorganized in the reading department and I need to set some order up for myself in the coming month or I'm afraid I won't make it very far!
For the month of January, of course, I've been trying to read as many Lucy Maud Montgomery titles as possible in connection with the
Lucy Maud Montgomery Reading Challenge
which I host here every year.
So far I've read:
Currently I'm reading
Nomad: From Islam to America
but I can't say I'm enjoying it all that much.
It's somewhere near the height of depressing as a read and I'm undecided on whether or not to finish it.
As for what I plan on and
hope
to read during the month of February . . .
The kids and I plan to read
The Long Winter
in conjunction with Barbara's
Laura Ingalls Wilder Reading Challenge
which she hosts each year in February.
For my own part, I would like to read at least these three titles:
The Magic of Ordinary Days
, by Ann Howard Creel.
This is my in-town book club's selection for the month of February and I'm greatly looking forward to it! It's been talked up nicely.
Secondly, I'd like to re-read
Hinds' Feet on High Places
because it's been far too long and I've forgotten enough of it that it's time for a visit.
Lastly (for purposes of this post) I'd like to re-read
Entwined
, by Heather Dixon.
Reason? I was reading the story of
The Twelve Dancing Princesses
to my daughter and it reminded me that I have Dixon's book on my shelf. I loved it when I first read it several years back and I wanted to read it again. It's just plain fun! Besides, I'm feeling in the mood for a fairytale (or a retelling, as it were).
So that's whats on my nightstand for the month of February. What's on yours?