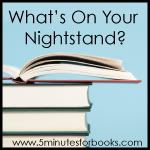 Last month I said that I was hoping to read three books for/by myself and one with the kids during February. That seems to be a reasonable expectation for a month's worth of reading. I'm not reading
nearly
as much as I would like these days, truth be told. It's just not possible between running a business, making attempts to keep up with housework - (I think the dust bunnies are tripling and I have no idea how or why but they are
merciless!
) - staying on track with school, and general daily living! It's an interesting time period for me, full of transitions. I'm enjoying it all but I'm missing all of the reading. I used to devote over an hour to it every afternoon and now I squeeze it in sometime in the evening, after the kids have gone to bed.
Last month my reading goals were as follows:
Status:
Finished. I can't say that I enjoyed it though and I've pretty much decided against reviewing it in total. I'll just say that Ali and I have different world views. Our chief differences come from the fact that she's an atheist and I am a Christian. Her desire with this book is to communicate the dangers she sees in Islam and to present a solution for "westernizing" Muslims. Her chief solution though is to introduce Muslims to "moderate Christianity" which focuses solely on the love of God but doesn't get too "extreme." She believes this will fill the void Muslims feel for a deity in their life without causing "radical" life changes. Because she has no understanding of Christianity and its requirements it almost feels like she's jumping out of one frying pan and into another. Her ignorance comes across on almost every page and so it was hard to hear her arguments and consider them viable. I can see why she's perceived as being an excellent spokesperson on the topic, but as I disagree with where she's landed, philosophically speaking, I wouldn't go about recommending her book or her arguments.
Status:
Finished! Review forthcoming. We always enjoy these reads together. We've been reading one book from the Little House series each year and it's just been a blast.
Status:
Read and
reviewed here
. This wasn't my favorite book.
Status:
I did re-read it. Hadn't read it since 2009 when it was apparently so moving that I couldn't even review it.
I reviewed it this time
(a little bit more than last).
Status:
Finished! Review forthcoming.
I like selecting three books for myself, and one with the kids. I'll try that again this month and see how it works. Here's what I hope to get to.
I've read this a few times (see
here
and
here
) and loved it and have been waiting for them to be old enough to appreciate some of the humor. I think Bookworm1 is quite ready.
As for my own personal reads, I'd like to get to the following titles:
This one is available through Kindle Unlimited which I'm going to give a trial run this coming month. Anyone else out there tried or used Kindle Unlimited? Feedback?
I read this title back in 2007 and based on my "
review
" I have no recollection whatsoever of what the book was about, although apparently I loved it. (Have I mentioned how I
hate
my old reviews?) I wanted to revisit this book in part because Bookworm1's tastes in books swing towards the fantastical an exciting. He thinks most books are just "ok". His favorite books are ones with adventures and typically are so thrilling to him that he can't bear to watch the movies for fear of it being too intense on the screen. Those are the types he gravitates towards so I'm looking to offer him such titles to read. I'm going to give this one a go and see if it will fit the bill. (Plus I just want to know if I'll like it as much as I did the first time!)
Lastly I'd like to read an Agatha Christie along with my in town bookclub. I already know I won't be able to make the gathering this month, but I'd like to read a book along with them all the same.
I confess to having an ulterior motive for selecting that title. Chiefly, I was informed that Dame Maggie Smith and Angela Landsbury starred in a 1978 film version of the same and I'd like to watch it after I finish reading the book. (I really like both of those actresses.)
This shall be my working reading plan for the coming month. With life as busy as it has been lately, I found that establishing a plan saved me a lot of guess work and kept me on track this past month. Fingers crossed that I'll succeed in March as well!