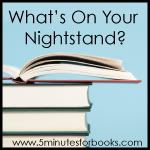 I used to have a list on my sidebar indicating what book I was reading now and what books were standing in line. I finally gave up and removed that list because I choose books by mood and not by list. Most of the time anyway. This "What's On My Nightstand" meme forces me to share what's on the docket for now and this meme I can do. Since the rules about what I discuss here are flexible, you'll not always hear about what it is I'm reading now. But for this go around, I will.
Currently I am in the middle of reading
Foxe's Books of Martyrs
because I think it's important to the Christian faith. I still think so. However, I cannot say that I am enjoying it. Really not very much at all. I have an interesting review of it revolving around in my brain so stay tuned.
I used to read several books at once but as I got older and my son became more "distracting" I found that I had to narrow down the pile and only read one book at a time. This boosts concentration levels.
That being said!
Foxe's Book of Martyrs
was putting me in quite a funk so I broke my newly established rule and picked up a book on the fly, knowing absolutely nothing about it, and hoped for the best.
I picked up two copies of
The Mysterious Benedict Society
, by Trenton Lee Stewart, this past week. One copy for me, and one copy for my mom who was visiting (and is also an avid reader). It is very fun. And I'm discovering it is kinda dark. I can't really say whether this is going to be a book that I hands down LOVE, despise or have raised eyebrows about. You can chalk me up for a "tentative like" but check back. I'm sure I'll have lots to say about it. It demands a lot of thought and I don't want to jump the gun and presume anything that isn't so.
So there you have it, folks! Those books are what are on my "nightstand" at present. Now I'm looking forward to hearing about what's on yours!