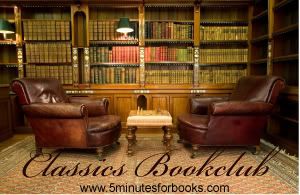 It's time for the first "meeting" of the Classics Bookclub over at
5 Minutes for Books.
Jennifer announced the club in August and the first book for consumption is Jane Austen's very popular
Pride & Prejudice
. I had read it before, eons ago, but it's been so long that I didn't really remember what my reading experience was like. After the BBC version of the movie came out (and you know which one I am speaking of -- there is no other!) I became one of the millions of women who would rather pop in one of the DVDs than sit down with the book. And I thought nothing of it.
When Jennifer suggested we kick off the Classics Bookclub with this work of art, I figured it was time to re-read it. Before I read P&P this time, I read
Just Jane
by Nancy Moser [review
here
] because I wanted to get a feel for who Austen was. (I've read all of Austen's works - now I've just to find out more about the woman herself!) I have appreciated doing that, although I know Moser's book is not an official biography or anything close. Moser did give me a feeling for who Jane was though and how who she was might have shone through in her writings. It was a nice thing to read before diving into this story yet again.
I have to say now, having re-read
Pride & Prejudice
, that the BBC version with Jennifer Ehle and Colin Firth is magnificent in following the book. I hardly felt like I was reading the book at all, in all honesty! The scenes and characters are so firmly fixed in my mind now, thanks to that particular movie version, and the dialogue so close and on point that I can hardly tell the difference. I did, however, appreciate the fact that the book summarizes various relationships in a much more satisfying manner than the movie ever could.
I short, I don't have anything particular deep or meaningful to share on this book. I guess the (firm) conclusion I have come to, having now re-read the book, is that it is rather imperative that you read the book before watching the movie otherwise you are spoiled for life and might never feel the need to read the book. Austen is indeed witty even on film but in book form . . .
ah
! She was a master at the fine art of written communication. This book sometimes says so much while saying so very little. And yet, we the readers, are moved by the characters' various experiences. Absolutely delightful! (
After
you've read the book then, of course, it is highly recommended that you watch BBC's 6 hour version. That is the only version that is necessary to watch. Period.)
I really didn't walk away with too many surprises from the book this go 'round. I just enjoyed the characters as usual and basked in Austen's wit. An enjoyable read, a good first pick for the bookclub and all is well.
Did you write up a post about this book and participate in the book club? If so, I'm sure I'll be seeing you around!