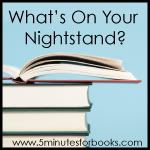 Oh dear, oh dear, oh dear! It's already time to tell you
what's on my nightstand
again. WHERE DOES THE TIME GO ALREADY!?!?!?!?!
I AM pleased to say that I did get to everything that was on my nightstand
last month.
I didn't like
Three Cups of Tea
enough to finish it, but I did get through everything else. Which brings us to the present month.
The most glaringly obvious thing which was menacingly staring at me from "my nightstand" was
Bleak House
which was part of my
Fall Reading Challenge.
I finally gave up.
I'm also purposing to complete reading
The Discipline of Spiritual Discernment, by Tim Challies.
Some additional "personal" reads which are on the stand:
1.
Igraine the Brave, by Cornelia Funke (whom I love);
2.
My Side of the Mountain, by Jean Craighead George;
and
3.
Radical Womanhood, by Carolyn McCulley.
Some reading I intend to get around to for up-and-coming
5 Minutes for Books
reviews are:
1.
The Tale of Emily Windsnap;
2.
Christmas at Fairacre;
and
3.
Knowing Right from Wrong: A Christian Guide to Conscience.
I think I'm looking forward to everything this month! Of course, I have a few more books I'll throw in the loop but those are all the books in the top of the current stack (which is quite large).
What's on YOUR Nightstand? I'm looking forward to hopping around and seeing what everyone else is reading.
Happy Reading!