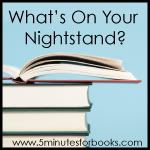 Yup! It's time already! Time to tell you
what's on my nightstand
.
I've been down with a pretty bad headcold the last few days so I'll keep this entry fairly brief and very uncreative. Not that I've been wildly creative with these entries in the past but still . . . one can try. Just not this month.
The TBR books at the top of my
5 Minutes for Books
stack include the following:
Guns of Thunder
and
Guns of the Lion
are the first two books in the Faith and Freedom series published by
P&R Publishing.
I'm constantly hunting for good series for boys (seeing that I have one) that I would want to provide for my son to enjoy as he grows up. I have hopes for this series and I'm really, really, really curious to get to them! Stay tuned to
5 Minutes for Books
for my thoughts on this series. I'm sure I'll have some. Thoughts, that is.
I also have
Parenting with Love & Logic
in the pile, which came at the recommendation of a friend of mine who is a public school teacher and has used the Love & Logic Approach in her class. I wanted to see what it's all about.
At the top of my
personal
TBR list for Reading to Know, you'll find:
Radical Womanhood (This was on my nightstand last month and really, I will read it. In the meantime, while you are awaiting my opinion on it, you can always go and read
Lisa's review
.)
The Chronicles of Narnia
. I ache to get to it and I really want to read through them again before Prince Caspian comes out on video.
Then, of course, the
Faerie Queen
still awaits!
That's what's lurking and mocking me from my "nightstand." What's on yours?