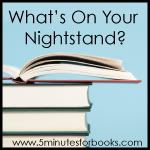 It's time AGAIN for
What's on Your Nightstand
over at
5 Minutes for Books.
WHERE did the time go already? It hardly seems fair. I'd complain more if Christmas weren't just a couple of days away but currently I'm too excited about that to notice much else.
It's time to CELEBRATE so I really don't have many grand Nightstand Plans, if you will, as I'm taking a short reading break during the holidays. That being said, I'll share about a few books which are beckoning to me.
Books awaiting attention over at
5 Minutes for Books
include:
1.
How to Be Like Walt: Capturing the Disney Magic Every Day of Your Life
. I've briefly skimmed this book and the man sounds fascinating! I'm really looking forward to getting into this one!
2.
How to Solve Your People Problems: Dealing with Your Difficult Relationships
which I figure everyone is bound to have a lot of post-holidays. (I mean, we all wish we didn't but hey - stuff happens.)
Books that I'm hoping to read for personal pleasure.
1. Book Two of Edmund Spense's Faerie Queen. I read
Faerie Queen Book One
and I just need to get my act together and move on.
2. Lots and lots and lots (and lots and lots) of re-reading Lucy Maud Montgomery's books just for the plain fun of it! Because it just needs to happen! Just because it's fun.
That's what's hanging around on my "nightstand" this month. What about you? I know everyone is getting ready for Christmas but I'm hoping to see some of you around this week anyway. In the meantime, I hope everyone has a wonderful holiday season!