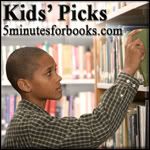 Time for another Kid Pick carnival at
5 Minutes for Books
.
So, one thing we've been doing lately is starting to memorize Bible verses and we are beginning at the beginning - in Genesis. I read somewhere (I can't remember where exactly, off the top of my head) that creation is a great place to start with young children. It covers the basics: God made everything and said it was good. To that end, we've been using
Standard Publishing's
book,
The Story of Creation felt board book
. (I wrote about their
Christmas felt book
at 5 Minutes for Books in December.) Their felt book for creation is no less a marvel. My son frequently requests this book, primariliy because there is a whale felt figure. We like the whale. Very much. All of the other figures are quickly sorted out but the whale maintains his popularity. I guess, perhaps, we're mostly learning that God created whales (on the fifth day). I try! ha!
Standard also offers a
Lift and Look: Creation
book that our son enjoys. The book is a thick foam book with parts you can lift out and place back in, giving it something of a puzzle feel to it. It's a smaller book and easy to cart around with us places. (The highlight of this book is the dolphin which he can pull out and put back. There's just something about sea creatures with us!)
Of course, along with all of this we've learned our second Bible verse. (The first was, of course, "Children, obey your parents in the Lord, for this is right!", this being an important concept to establish to a two year old!) "In the beginning, God created the heavens and the earth!" This is proclaimed with great gusto which is fun to hear.
These books make our pick of the week since we've been focusing on learning this verse and are taking in the concept that God created the world.