AND THE WINNER IS #22 - SERENA! Congrats and thanks! Nice meeting all of you and I hope to see you around!
It's time for the Ultimate Blog Party over at
5 Minutes for Mom
and this year I thought I'd hop in. I've loved participating in things like Bloggy Giveaways as I've met quite a few of you that way. I look forward to making some new friends in this way.
If you are here from
5 Minutes for Mom
, the chances of you knowing what this particular blog is about is slim to none so give me a second to fill you in. If you make it to the end of this post, there's a potential gift waiting for you. (Yeah. Bribery.)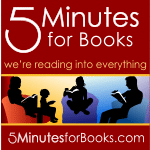 This is a book blog, pure and simple. Only it's not always purely about books and I'd like to think it's not all that simple. If I thought it were simple, I'd probably quit blogging. Besides running this site, I am also a staff member at 5 Minutes for Mom's sister site,
5 Minutes for Books
. Being a part of that team is a joy and a delight!
I love to read and I love to think. My husband will verify that I get antsy and anxious after a period of days if I haven't had a chance to read. I can't help it. I don't try to.
Blogging seems to be my escape from the world and a chance to get my "mommy brain" some excersize. I am a stay-at-home mom who wouldn't want to be anywhere else, so I especially relish the joys of blogging and the book blog community that has been developing over the last few years. I'm blessed to have the opportunity to be home with my kid(s). I have one son and another on the way via adoption (due to arrive sometime this summer). My son doesn't have a blog name and he needs one. Feel free to leave a suggestion. ("Bookworm1" "Little Squire"? I don't know. Leave a thought!) I love that I get to pursue two passions: the passion to pursue homemaking as both an art and a calling and the passion to read and review books.
Why the passion for books? I think they weild great power of influence and its important to understand them and the changes they are likely to make on society. (This is all aside from the fact that they are just generally entertaining things.)
My husband and I are also
photographers in Oregon
and we have fun working together to be creative in this particular art medium. We've guest posted
a few tips
and
tricks
over at
5 Minutes for Mom
if you'd care to take a peek.
There are a lot of things that drive and motivate us, but for me books have to rank near the top of things that have the ability to sway, shape and change my mind. They mature me. They speak for me. They engage me and I love them.
I'm trying to instill the same love of reading in my children. One of the publishers that we've used in our home to encourage this love of the written word (as well as love of music!) is
Barefoot Books
. Barefoot books are quality - top quality - children's books. THey have a series that also includes music and one of our favorite is
Knick Knack Paddy Whack
. This particular book features SteveSongs singing the main tune. Each verse or round of the song highlights a particular musical instrument (maracas, guitar, violin, drums, etc.) in a tasteful and catchy manner. We love this book.
Barefoot Books
has agreed to give away one copy of
Knick Knack Paddy Whack with a CD
to one of you! I love their generosity and excitement in wanting to participate in this way and would encourage you, in turn, to show some excitement back to them by
browsing their site
. It's like a big treasure hunt over there! Then come back and tell me what you found!
So how do you win?
1. Visit Barefoot Books and come back and let me know what you saw and liked.

2. Win an extra entry by leaving a suggestion for a blog name that I can refer to my son as.

3. Win a THIRD entry by subscribing to me via Google Reader, e-mail or whatever!
This contest is open to U.S. Residents Only. Winner will be announced on Friday, March 27th.
I hope to get to know you also and am looking forward to running around the Blog Party and meeting some other attendees. Good luck, have fun and see you around!