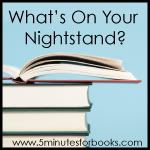 Yup, it's been a month. I suppose I should just get used to the idea of time whizzing by. In some ways I'm grateful for it. I have to say that I'm rather eagerly looking forward to the second half of this year so the fact that we're practically into April doesn't really scare me so much as delights me. Still. I'm not getting as much done and feel rather stressed about it! Meet First Born Me! I will always want to be getting more done - and faster!
Anyway, checking in on my goals last month, I accomplished almost everything I wanted to read for
5 Minutes for Books
. I read
In The Shadow of the Sun King
. I also completed reading
Multiple Bles8ings
and shocked people by not having ever heard of the show. I didn't, however, get around to reading Octavian Nothing. That's still on my list.
As for my personal reading, well, let's not even go there.
On my nightstand with hopes of being completed for this month are (in keeping with my Spring Reading Challenge "Pledge"):
For 5 Minutes for Books:
1.
Around the World in Eighty Days
(as part of the
Classics Bookclub
). I also promised to participate in a Podcast about this so you all might hear my voice soon. Yeah.Ok.Moving on.
2.
The Astonishing Life of Octavian Nothing
, Vol I and Vol II
3.
Simply C. S. Lewis: A Beginner's Guide to the Life and Works of C. S. Lewis
For Reading to Know:
1.
Hood (The King Raven Trilogy, Book 1)
(because
Lisa recommended it
and I am GOING to particpate in the
I Read It
Carnival over at 5M4B)
2.
Modoc: The True Story of the Greatest Elephant That Ever Lived
(for my church book group)
3.
Road Home, The
(ditto)
4.
Breach of Trust
(again, the church book club)
Wish me luck!
And what about you all? I so look forward to
What's On Your Nightstand
and I know that so many of the rest of you do also. I look forward to seeing what is on your nightstands! See you around!