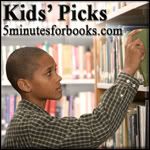 Time for another Kid Picks carnival over at
5 Minutes for Books
. What are you and your kids reading? Well, we want to know!
This week my family and I are traveling to Texas
to see my dad (who is battling cancer
) and so we have been collecting things to take with us on the airplane. (Keeping a two year old occupied on an airplane for a nine hour day trip to Texas. Can you believe it?! Shoot me now.
Ahhh
! But it's worth it, it's worth it.)
At any rate, we picked up some
Barefoot Books
because 1.) We like
Barefoot Books
and 2.) We need some good quality reading/singing material that will hold his attention.
One of my son's favorite musical Barefoot Books is
The Journey Home from Grandpa's
. (Only in this case we're going to
Papa
's house but eventually we'll come back home!) Fred Penner leads the way in singing this song about traveling home from Grandpa's on a bouncy, bumpy road with a white helicopter whizzing up and down around and above the car, and past a pink tractor which is bumping across a brown and muddy field. My son loves looking at all of the vehicles and transportation methods presented in this book, except for the crane which is picking up the "icky sticky sand." HA! For some reason, likely the icky stickiness of it all, he is convinced that it's bad. The song and book however are quite good and we highly recommend it.
The other song book that we have to listen to is the
Creepy Crawly Calypso
which, you guessed it, has a Calypso beat to it. I don't think I've ever been exposed to music quite like it before so it has been and fun and entertaining interaction, albeit it different than what we're used to. The illustrations in this book are just like all the others in the Barefoot series - unique and well-done. All of the insects in this book play various intrument. Our favorite is the one featured on the
Barefoot website
which you can see here:
We like looking at (pictures of!) spiders and we LOVE playing drums. This was a good pick on Barefoot's part and we're certainly enjoying it.
Bookworm1 would pick
Barefoot Books
any day of the week when it comes to music and song. They have just really done a marvelous job combining music and story-telling and we highly recommend them.
So now enough about us. What about you? What are your children picking to share about this week at the carnival? I can't wait to see! I may be a few days behind in catching up, being that we're traveling, but if you leave a note I'll come visit you upon my return!