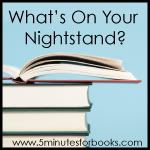 I missed participating last month so I'm glad to be back on board for this month's
What's On Your Nightstand
carnival. I always enjoy seeing what other people are in the middle of reading or are hoping to get to in the coming month.
As for my own stack, I think I will not be as ambitious in listing all of the things I hope to read. Life has been teaching me that I can't plan everything out and mostly that nothing is predictable. So I'll just mention the four books I hope most to get to in the next month.
For Reading to Know:
1.
A Wife After God's Own Heart: 12 Things That Really Matter in Your Marriage
, by Elizabeth George.
2.
Scarlet (The King Raven, Book 2)
(After having read
Hood
at Lisa's recommendation, I finally got around to buying book 2 to
read
devour here in the very near future!
For 5 Minutes for Books:
1. I still have a copy of
The Jew Store
sitting on my shelf waiting to be read. I hope to get to this one this month for certain. It's not that I haven't found the book appealing...I just got distracted with other life events and books that were tucked away in suitcases.
2. I'm also really excited to have the opportunity to read
Father and Son: Finding Freedom
which I understand to be a story about adoption. (Having
talked about adoption
a bit around here, I have high hopes for this particular book.)
As always, other things will be thrown into the mix and reads are always subject to change.
But we press on in our reading, right!?
Looking forward to finding out what's on
YOUR
nightstand!