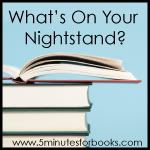 I wish I could put your fears to rest but I am afraid I cannot. The year IS flying by. Another month IS gone. It's time to examine those Nightstands again! (Sorry. Reality is harsh sometimes.)
This time I'll show you in pictures what I have laying about waiting for a decent amoung of attention.
For
Reading to Know
:


Lucy Maud Montgomery: The Gift of Wings
. I mentioned last week how my husband gifted me with this book (which has been on my wish list for awhile -- well....since it came out). I'm excited to get to it this month!




Hollywood Worldviews: Watching Films With Wisdom and Discernment
. This book looks terribly fascinating. I actually have a few books on my nightstand that relate to engaging (or not) with the culture. Definitely thought provoking books. I guess you can say that I've been conducting a mini personal study on the subject and I'll be sharing more about that soon.



For 5 Minutes for Books:




Pink Brain, Blue Brain: How Small Differences Grow Into Troublesome Gaps -- And What We Can Do About It
. This book just piqued my interest and I'm looking forward to finding out what the author's premise and arguments are in relation to the differences between males and females.




The Jew Store
. I've started reading this (it's been on my nightstand for awhile) and it IS very interesting. I just need to pick it back up and get going again.
I do have lots of fun reads this month. I'm excited about my stacks. These are the books at the top that should be comin' down the bloggy pipe here shortly as they've been nagging at me recently.
What books are nagging you this month? I look forward to finding out. =)