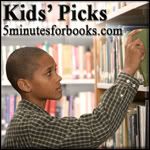 Another round for Kid Picks over at
5 Minutes for Books
and I almost think my offering is unfortunate. I have something against my son thinking pirates are cool but at the same time, he thinks it's all in good fun (thanks to Peter Pan). Pirates just aren't ADMIRABLE people. However, they do wear eye patches, have hooks for hands, and carry telescopes around and apparently that's a fascinating combination. As long as the fascination is focused on accessories, I'm willing to go with the flow. We just try to avoid scary looking pirates and the ones that look like they have less than admirable intentions towards their fellow humans. (Heh.)
Recently I picked up Barefoot Books'
Port Side Pirates
(only I purchased the paperback book that does not come with a CD). The book reads along in sing-song fashion so you can read it as is, or you can sing along to it. (You can purchase the book with or without CD and the music is in the back of the book if you want to check out the tune.)
The running refrain is:
"Oh we go this way, that way,
Port side, starboard
over the deep blue sea!"
The illustrator of this book, Oscar Seaworthy (oh yes!), keeps the pirates cartoonish and friendly, and yet it still has the trademark Barefoot Book look to it. I think it feels very folksy. They definitely have a unique look and feel to their books on the whole and this book sticks to Barefoot tradition (i.e., bold colors, inviting illustrations, etc.). The pirates in this book run into a storm, come upon a deserted island, and find treasure, just like all good pirates do. It's an upbeat kind of book and so I don't really mind indulging in the obsession with this book.
The other pirate-y book that my son loves is Usbourne Books'
That's Not My Pirate
which is BABY friendly so I really have no worries about it. We reviewed this book previously on
5 Minutes for Books
and its still a favorite in our household. Pretty much all you are doing is looking at various pirates and feeling different textures. Technically this is below my son's reading level but it is not below his interest level. (Again, we're talking about eye patches, telescopes and pirate ships, etc. It's really hard to go wrong with this book.) A clever little addition to Usbourne's line of
That's Not My . . . series
.
Thanks to the local Dollar Store we can also have our own fun with pirate play. For $1 we got a hook AND an eye path. The hat came separately and he's made plenty good use out of all of these items as he runs around the house singing Peter Pan's "OooooooOOOOOoooH, a Pirate's Life for Me!" (We hear that quite frequently. I'll only worry when he's older.) He's having fun, he's playing, he's enjoying life and we're going with the flow of things. (The following photographs we took in our
portrait studio
.)
And for your amusement (and mostly my son's), here are "our" favorite singing clips from
Disney's Peter Pan
:
"Barrels of fun for everyone!"
Yo Ho!