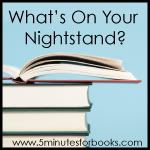 WHO
can predict what will happen over the next month, considering that both Thanksgiving and Christmas will be thrown into the mix.
And might I say again that this is my hands down favorite time of year and I am very much looking forward to the next month of celebration(s) in various forms? Oh, because I am. I
LOVE
this time of year!
Last month I mentioned that I would just be takin' my own sweet time in reading whatever I liked or struck my fancy. The top book on my "nightstand" last month, makes the top of the list this time also. I'm almost finished with it. I've been lingering. Ok, I've been a little busy but I've ALSO been lingering over it.
I am absolutely loving it! Maybe I'm lingering because I just don't want it to end? I can tell you that, without a doubt, I would have
loved
the company of Winston Churchill. If I get started telling you about how much I just get a kick out of the guy, I'll be writing out the whole book review here and now. Since I haven't finished it yet, I'm going to stop talking and move on!
I DID finish reading
The Silent Gift
and TOTALLY loved it! It was well worth the reading time and energy. That said, it didn't take much time and it didn't require much energy. Fabulous read from start to finish and I highly recommend it. You can read my
review of The Silent Gift
here.
My top four "fun picks" for the month of December are as follows:
I'm not sure what I'll get to, due to the aforementioned holidays, but these four are the ones I am eyeing most greedily at the moment and have the highest hopes for.
I cannot believe this year is almost over.
(Is anybody with me on that?)
I am also grateful that this year is almost over! It's been a hard sort of year and I'm ready for a new start and new beginnings. That said, I'd still like to finish a few books before the year is out!
Here's hopin'!
In the meantime,
Happy Thanksgiving!