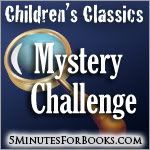 I am SO WAY HYPED (
as I mentioned over at 5 Minutes for Books
).
We're replacing our regular Children's Classics carnival with a
Children's Classics Mystery Challeng
e for the months of January - June. So, in addition to the
Nancy Drew Challenge
(which I mentioned I would be doing) I will also be reading around a few other fun characters from the past - like Trixie Belden, Cherry Ames and a new one I picked up the other day - Robin Kane.
I'm also quite excited because I was browsing a used bookstore this past weekend and found a 1930 first edition of Nancy Drew and
The Secret of the Old Clock
! (I prefer the 1930's editions.) My heart was singing!!!
We really do hope that you'll revisit some old classic mysteries with us over the course of the first half of the year. Feel free to double up your challenges (like I'll be doing!). We wanted to create a challenge at
5 Minutes for Books
that provided plenty of flexibility and opportunity to learn about a variety of series and I think we can do it with the Children's Classics Mystery Challenge. Looking forward to it and hoping you'll join in!