Because I've taken it on as a mission in life to share my love of (anything by) Lucy Maud Montgomery, I picked up a gently used
copy of Anne of Green Gables to give away
to one of you dear souls who need a proper introduction.
Now, you should know that I keep picking Anne things to give away because she is my favorite of all of the people conjured up by Montgomery. I've read everything Montgomery has written (minus
The Blythes are Quoted
but can we please not talk about that right now!?!) and of all the characters, Anne still wins my heart. I feel sorry for people who haven't read her (and, quite frankly, also experience feelings of shock and outrage - ah hem) and so I feel compelled to focus on Anne. If you never meet anyone else (Pat, Emily, Sara, Valancy, Kilmeny, Jane etc.) then at least meet Anne. I hardly think it will be a regrettable experience.
Random.org selected
Marjorie
as the winner of the Anne of Green Gables book and, as Marjorie has apparently never read Anne before, I'm delighted to send the copy her way! =) Congrats!
I'm also super excited about another giveaway that I'll be featuring during the course of the challenge. Any guesses? It's something I've mentioned around these parts in the not-too-distant past. The other hint I'll give is a reminder that Anne liked pretty things.
Stay tuned....
In the meantime, how's this?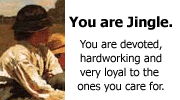 Which L.M. Montgomery Hero are You?
(If you end up taking the quiz, I'd love to find out which "hero" you are.)