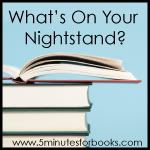 Last month I supposed that getting much reading done during the holiday months was going to be a bit difficult. And it has been! I've found very little time for reading. That said, I did accomplish reading three books
from last month's list
.
* I read
Franklin & Winston: An Intimate Portrait of an Epic Friendship
which I loved and adored. If you missed it you can read my post about
Franklin & Winston
, as well as my post about
Friendship, Winston Churchill Style
.
* I read
My Life in France
, by Julia Child.
I also read Redeeming Love, by Francine Rivers and haven't written a review of it for the same reason I suspect that I've never seen a decent review of it before.
Yeah, uh huh
. Hmm. Definitely thought provoking. When I was done reading it (in 2 days time, reading while cooking, going to the bathroom and any spare quiet moment I could find and then some!) Jonathan asked, "How was the book?" My reply? "I can't talk about it." And I can't. It has internalized and it's not coming out. And I don't know that I would pin the blame on any one person who told me to read it. You bear collective blame.
And if you WERE one to told me to "just read it already" then you know how much is wrapped up in that one little paragraph written above.
As for what is on my Nightstand for the following month....
I shall be primarily focusing on my pet project and challenge (which I thoroughly and heartily encourage you all to join in on, of course!):
You are welcome to read more about the Lucy Maud Montgomery Reading Challenge
HERE
.
I haven't really decided WHICH book(s) to read by Montgomery yet. But it will be something by her. (I know...big surprise there, right?)
Otherwise, these are the books that are staring in my face with raised question marks before them, just like so:
???????????????????????????????????????????????????????????????????
?????????????????????????????????????????????????????????????????
I've read Grace-Based Parenting before but would like to read alongside Gospel-Powered Parenting to contrast and compare, so that's my grand plan.
In the meantime, all I'm really planning to do is to celebrate Christmas and have a little fun celebrating around that.
What about you? What's on your Nightstand? I do love hopping around and seeing what other people are up to reading these days so - see ya around!
MERRY CHRISTMAS!