Thursday was a long, hard day so I am forced to think a little harder for my Friday Five than usual. Not that it should be hard. The rest of the week was quite grand on the whole, but Thursday was a little rough around the edges. But a weekend is coming, right? So....I'll make that my first thing to be thankful for! Well, I should probably try a little harder than that.
#1 -
I got an unexpected e-mail from a friend who I know lives a very busy life! The fact that she took time out of her day to sit down and write was very special and it put a little smile on my face. Actually, now that I think about it, I had several such e-mails from "busy friends" this week. Busy people have good excuses not to write. So when they do, I always pay attention to what they have to say and share with me.
#2 - A phone conversation with a good friend. If you know me in real life, you know I HATE, HATE, HATE talking on the phone. But. Every once in awhile I'll actually pick it up when it rings and amazing conversations come tumbling forth giving me words to live off for awhile. (But I still really, really hate the phone again once I hang up and the chances of my picking it up any time soon are slim to none.)
#3 - My friend declared Thursday night to be a girl night and encouraged me out of the house. We had a great time. Sometimes you just need to get away, have a good heart-to-heart with a friend over an Italian Soda and that makes the world a better place.
#4 -
5 Minutes for Books
. I just really love being part of the team over there! Such a great group of ladies who provide fun, encouragement and who challenge me personally in so many great ways! To some, 5 Minutes for Books might be "just another book site." For me, it's about friendship with a special group of ladies who are individually unique and hands down amazing!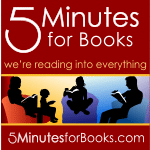 I love how Jennifer, the site editor, sends e-mails which make my brain spin out of control with ideas and thoughts and plans and dreams. And she doesn't even mind that it takes awhile for me to get my thoughts under control in order to do anything productive. She just goes with my flow which I find incredibly generous at times!
I'm ECSTATIC that I get to actually MEET Jennifer here in a few short months!
#5 - My sister-in-law, Jennifer, who is working with me on our
Offering Hospitality
blog. I'm just glad to be working on such a project with Jennifer as she is such an encouragement and inspiration to me! I'm blessed beyond measure to have her for a friend and sister.
Turns out there are a lot of things to smile about after all. Mostly it's the people who stepped into my life with encouraging words this week. Words of life. They make all the difference! Throw in a little chocolate for bonus points.
Licking my fingers while being happy that it's Friday,

Carrie