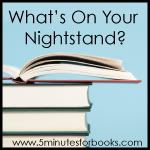 Well, I think I've done pretty good with fiction this past month. Hmm, then again, maybe I should continue to work on a blend of fiction and non. I confess I fall to the non-fiction much more easily. It just feels more profitable to me, mentally. But that's kinda stupid and I do realize that. It's nice to not only relax into a good fiction read, but really think through it as well. At any rate, despite all that I was able to read this past month, I feel like there's tons more "to do."
I confess, I don't really care for the "to do" feeling when it comes to reading. I prefer to the "I'm so relaxed" approached to reading which I seem to experience only a few times a year. I put too much on myself but I haven't figured out how to stop yet! The vicious cycle continues: Carrie relaxes into her reading, then takes on too much all at once and reading feels like a chore, then her TBR stack shrinks a bit and she feels more relaxed - no, wait! - she's piled on more books.
With all of that confusion it's a wonder I haven't paralyzed myself from being able to read anything at all!
This month I have more non-fiction than fiction on the Nightstand and it starts with two rather interesting titles that I'm quite sure I'll find interesting, annoying and hopefully insightful!
It's All Greek to Me: From Homer to the Hip
pocratic Oath, How Ancient Greece Has Shaped Our World
Bible Babel: Making Sense of the Most Talked About Book of All Time
These two probably rank as my top "morbidly curious" sort of reads and I can't imagine letting them collect dust for another month.
As for fiction reads that I'd really, honest and true, enjoy getting to in the next month:
If I keep saying that it will happen, it will happen, right? Isn't that how it works?
Here's hoping (and doing a little purposeful planning!)