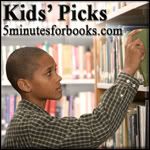 Welcome again to another Kids' Picks carnival over at
5 Minutes for Books
.
Last month we talked about ocean animals
and, guess what?! This month we're going to do the exact same thing because why!? Repeat after me:
We Love Sea Creatures
. Oh yes, we do. They are "our" focus right now.
Imagine the surprise and complete delight on Bookworm1's face when the following book arrived in the mail, courtesy of
Silver Dolphin books
:
Oceans
is labeled as being "The Ultimate Guide to Marine Life" and it certainly holds up the claim (especially if you are three and have devoted your entire life to the study of marine life.) Although my three year old is making the most out of this book right now, this is a book we can grow with, being designed with older kids in mind. I would say that this book is probably "best" for ages 6-12 but, like I said, my son is three and we like it just fine!
This book is hardback but spiral bound which I find an absolutely fantastic combination. (I love books like this!) Immediately upon opening the book you discover two wall posters (folded up and protected inside plastic zip pouches) depicting Life on a Coral Reef and relating to ocean depths. The "Ocean Depths" poster indicates various layers of the ocean and which sea creatures you might find on what level. Sharks, sting rays, whales, dragon fish, a lantern fish, etc., etc. you get the idea!
The rest of
Oceans
is laid out like a set of files in a filing cabinet, but thanks to the spiral bound book, you can easily navigate through the files which are labeled as follows:
*
Animal Profiles
(with see-through pages to help the young learner understanding anatomy of various things like hermit crabs and lemon sharks.)
*
Oceans of the World
(elf explanatory.)
*
Invertebrates
(with discussions of things like jellyfish, sponges and mollusks - not to mention -
and indeed we must not forget
!- an octopus.)
*
Fish
*
Reptiles and Birds
*
Sea Mammals
(whales, of course!)
*
Human Impact
(with discussions involving oil spills, ocean power, sea levels, etc.)
This book does a tremendous job providing basic information on a large variety of sea creatures and ocean concerns. The photographs used in this book are crisp, clear and delightful to look at. In fact, we have enjoyed looking at this book for hours on end, learning new things about the ocean that we didn't know before. I love the layout of this book. It feels very organized and straight forward, allowing you to focus on particular sections of ocean life instead of having it all thrown together in a big mess for you to sort out. "Amazing Facts" are scattered throughout the book on coral reefs to penguins alike.
Oceans
receives four thumbs up from us (2 thumbs per person) and we're happy to recommend it to you.
THIS POST ORIGINALLY PUBLISHED AS A GIVEAWAY, BUT THE GIVEAWAY IS NOW CLOSED.
Thank you,
Silver Dolphin Books
, for your tremendous generosity!