Time for another Kid Pick carnival at
5 Minutes for Books
.
This month, we explored and discovered
One Too Many: A Seek & Find Counting Book
by Gianna Marino.
Bookworm1 surprised me by really liking this book. Not that it is
un
likeable. I just didn't think he would get it. But he did
and
he loved it!
Illustrated with black and white illustrations, you count up the animals, from one to 'one too many!'
On the first page we see a fly bouncing into the page. It, of course, is black. It bounces into two cows - jerseys, of course. By the time you turn the page, you are looking at one fly, two cows and three black and white horses which start to make the eyes feel energetic and the page feel a bit crowded. But we're not done! Oh no! There are a lot more animals to add to this barnyard scene and it because trickier and trickier to count them out of the crowd.
Bookworm1 is a fan of the I Spy books so I shouldn't have really been so surprised that he latched on to
One Too Many
so quickly. From beginning to end, he enjoyed figuring out what animals had joined the scene and was working at hunting them all out!
So, despite it's simplistic (and yet complicated!) design and idea, we're happy to recommend this one. Think of it as a sophisticated I Spy book with farm animals. It's definitely more artsy. I don't meant to sound so surprised about liking it but, in truth, I am!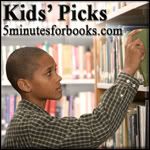 Ever been surprised by what your kids pick to love? I hope you'll decide to share with us over at
5 Minutes for Books
!