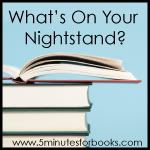 Time for another Nightstand carnival (my favorite!) at
5 Minutes for Books
! I hope you'll join in and share in what you are reading (or have read) recently.
As for me, I seem to be getting closer and closer every month to my goal of reading purely for pleasure. Even when it comes to reading review copies, I'm turning down more and accepting only books that I think I'm really going to enjoy or benefit from. I'm having a good time and I feel like I'm "in a good place" with my reading. (I say with a complete grin on my face. I can probably only say that right now because my stack is manageable at the moment. ha!)
Anyway, I have a lot of books sitting around that I'm quite excited about - each for their own reason.
First up, I'm currently reading
Mr. Revere and I
and
Ben and Me
, both by Robert Lawson and both a lot of fun.
I'm also excited to say that I have a little treat in store for these two books so once I finish reading them you'll see that pop up. These were books that Jonathan had read when he was growing up and I somehow missed so it's been fun to make my acquaintance.
I just finished reading
Every Woman's Marriage
and Jonathan read the companion title,
Every Man's Marriage
and so we'll have a joint review of that coming up. (Because that seems to be The Thing to Do these days....sometimes anyway.)
We have a fun trip coming up this coming month (in conjunction with our five year anniversary!) so I am purposing and intending to REALLY, SERIOUSLY, GONNA-DO-IT-THIS-TIME read Ben Hur and listen to the
Ben Hur Radio Theatre
drama. I keep saying I'm going to and yet I haven't done it yet. Knowing that we have a car ride coming up, I'm hoping to get to the book before our trip so that I can listen to the audio drama with a clean conscience.
Heh
.
Lastly, for something a little different I have picked up and started reading through/using an up-and-coming title by
Harvest House
called
The 90-Day Fitness Challenge
. It's written by two former contestants (from Season 6, if you've followed it) of
The Biggest Loser
. I haven't seen a single episode of this show but am certainly intrigued (like many Americans) over the concept of it. (How on earth do you get a person to stand up in front of millions of people wearing practically nothing to demonstrate how large they are? I cannot fathom this...) We have some friends who follow the show and cheer for various contestants. Since Youtube has yet to accommodate me by allowing full episodes of the show to air, I haven't quite familiarized myself with it yet. But anyway, all that to say that Harvest House is introducing this book to the world and I like the general concept of it so I'm going to give it the 90 day run and let you know what I think of it at the end of the experience.
I can tell you right now that since there's a certain trip to NYC coming up this month in conjunction with the
Book Expo
, I am going to cheat in whatever way cheating looks like for a few days. Jennifer has promised cupcakes and pizza and I really want to try a New York City bagel while I'm there. Heh. (
Question to Jennifer: We WILL be walking a lot, won't we?
) I'm going to need to wrap the 90-Day Challenge around this
eating frenzy
book trip and somehow it will have to work itself out!
I think I'll leave this Nightstand post alone for now but it gives you just a little taste of what's on my plate. (Need to stop thinking about food here, obviously. They probably tell you that somewhere in this book....)
Happy Reading, all!