I finally got around to reading
To Kill a Mockingbird
thanks to Amy (from
Hope is in the Word
) deciding to host a
To Kill a Mockingbird Reading Challenge
during the month of August. She has invited us to read the book, share our thoughts, and link our posts up at the conclusion of the challenge. There's still a few days left in August if you want to hop on in.
But what's left to be said about
To Kill a Mockingbird
that has not already been said? I can't really review the book. I'm not even going to try. Instead, I figured I would just look up some information and find out more about the author of the book, Harper Lee.
Here are some facts I discovered:
* She was born on April 28, 1926 in Monroeville, Alabama.
* She was the youngest of four children.
* Her father was an attorney who served on the Alabama State Legislature. (1926 to 1938)
* Harper Lee was a tomboy and many people have said that the role of Scout was autobiographical - although Ms. Lee downplays that observation herself.
* She has never married.
* After college she lived a frugal life, taking care of her father and writing several longer stories.
* In December 1956, friends Michael Brown and Joy Williams Brown gave her the gift of a year's wages and told her to take off from work and write whatever she wanted to write. By the end of 1957, she had completed writing the draft of
To Kill a Mockingbird.
* In July of 1960, To Kill a Mockingbird had been published, hit the bookshelves, and became an instant best seller.
* In 1962, To Kill a Mockingbird was turned into a screen play starring the likes of Gregory Peck. Harper Lee said of the screenplay: "I think it is one of the best translations of a book to film ever made."
* She became friends with Gregory Peck and his family and is, in fact, still friends with his grandsons today. One of Peck's grandson's is, in fact, named after this famous writer. His name is Harper Peck Voll.
* Harper Lee has declined interviews and has not published any additional stories.
* Lee has worked on two additional manuscripts, although she left both unfinished, not having been satisfied with them. She worked on one novel entitled
The Long Goodbye
(left unfinished) and in the 1980's she worked on a true crime piece but set it aside also.
* In 1987, Christopher Sergel adapted the book into a play which was produced in England in 1987.
* On May 7, 2006, Lee wrote a letter to Oprah Winfrey that Oprah published in her magazine. In this letter Lee makes the following statement (which I find rather amusing!): "Now, 75 years later in an abundant society where people have laptops, cell phones, iPods and minds like empty rooms, I still plod along with books." (
Amen, Lee! Amen!
)
* On May 5, 1997, President George W. Bush presented Ms. Lee with the Presidential Medal of Freedom. This is "the highest civilian award in the United States and recognizes individuals who have made "an especially meritorious contribution to the security or national interests of the United States, world peace, cultural or other significant public or private endeavors."
Here is a list of Ms. Lee's writings:
Lee, Harper (1960) To Kill a Mockingbird. New York: J. B. Lippincott.
Lee, Harper (1961) "Love — In Other Words". Vogue Magazine.
Lee, Harper (1961) "Christmas to Me". McCall's Magazine.
Lee, Harper (1965) "When Children Discover America". McCall's Magazine.
* To Kill a Mockingbird has never been out of print.
Thanks, Amy, for hosting the
To Kill a Mockingbird Challenge
and for motivating me to finally read it! I absolutely LOVED it and also enjoyed finding about a little bit more about Ms. Lee.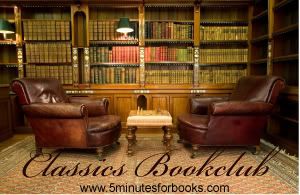 Given the fact that this is also a classic, I'll also be linking it up to the Classics Bookclub this coming Tuesday over at
5 Minutes for Books
.