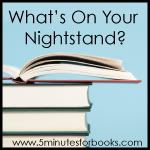 Nightstand time over at
5 Minutes for Books
! Again, this is probably my favorite of all the carnivals at 5M4B and the one I've always been the most excited about.
Of course, I just posted by
Fall Into Reading challenge
that I am working on. If you wish to see which review copy books are on my nightstand, you can check out my
challenge post
. My goal over the course of the next few months is to finish reading all my review copies so that I can start out 2011 free and clear and read more of whatever it is that I want in any given moment. I'm looking forward to that.
For purposes of this Nightstand post though, I'll share a couple of other books that I'm looking forward to reading this month that I've purchased myself and/or have been gifted and haven't managed to get to yet!
#1 - I'm looking forward to diving back into my own personal challenge to read Swindoll's Great Lives series this year. I kinda took the summer off, but jumped back in this month reading
Paul: A Man of Grace and Grit
. (Thoughts on that title forthcoming.) In October I am planning to read the next book in the series -
Job: A Man of Heroic Endurance
.
#2 - For Christmas last year (I know it. It's
that
bad!), my friend Sky gave me a copy of
An Experiment in Criticism
. I think I would like to read it before Christmas rolls around again! (I would VERY much like to read it before Christmas!)
#3 - Lastly, I purchased a copy of
In Search of the Castaways: The Children of Captain Grant
, by Jules Verne that I want to read. This is the book that the Disney movie is based on. (I hadn't even heard of the book prior to my digging around trying to figure out
which Disney films were based on books
.) I'm eager to read this book and compare it to the movie. BTW, if you missed the list - here is my compiled
List of Books That Disney Films Are Based On
(in case you didn't catch that earlier link - ;) ha!) As an FYI - I created a new "Disney books" label so if you want to see which books I have read that are related to Disney films, you can just scroll down to the right hand side of the screen here and click on the Disney Book label.)
(No, my copy doesn't look like the one above. I bought the "forgotten books" edition off of Amazon. But I like the vintage look so that's the one I'm picturing!)
So, for what it's worth, you now have a better feel for my nightstand, between this post and the
Fall Challenge post
. Looking forward to getting to ALL of these books.
And NOW I'm looking forward to checking out what's on YOUR nightstand!