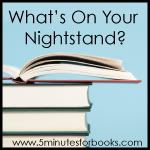 Nightstand time over at
5 Minutes for Books
!
Looking back, I haven't participated in a Nightstand event since October! That seems a little hard to believe. But now that the
Lucy Maud Montgomery Reading Challenge
is coming to a close, I guess it's time to look ahead a bit and plan out what I'm hoping
to read during the month of February. Here are some of them:
The Hunger Games
.
Why?
Because everyone is (just about done) talking about it. Even
Stephanie
and
Amy
.
Here's what
Amy had to say
:

"I think I could just make one statement about this book and leave it at that, and my feelings about it would have been vented. That one statement is WOW. "
That pretty much sold me. (And then she went on to read the other books in the trilogy so I'm interested. I picked up a used copy and figured I'd give it a go and see what I thought!
The Duggars: 20 and Counting!
Why?
Because I like the Duggars. A lot. I spent my whole bed-ridden first trimester watching episode after episode of their tv show - in part to encourage myself in the knowledge that children are a blessing! Jonathan gifted me with this book for Christmas. I've been saving it to read during my third trimester to remind me that even though I can't breathe because someone is squishing my lungs, they are indeed a blessing.
Think
, by John Piper.
Why?
Because I still like the title and the sound of it. It's been on my "Nightstand" for far too long and so I've pulled it from the shelf and added it to me, "You WILL read this in February" stack. May it be so!
The Crossing
, the latest upcoming release by Gilbert Morris.
Why?
Well. I've never read a Gilbert Morris book before. Ever. I saw that Barbour Books was publishing a new book in what is to be a new series by him and I thought now was as good a time as any to check him out. So they kindly sent me a copy of the book and I plan on reading it and deciding what I think of Morris. Of course, I'll share my opinion here as well. (Least you doubt it!) We'll see!
Those, my friends, are some of the books on my nightstand for this month. I have thoroughly enjoyed reading Lucy Maud Montgomery books during January and I'm excited to see what February reads will bring. I am getting better about estimating what reading time I have available these days and what I set aside to read in January was accomplished. We'll see if I've figured correctly for February. Stay tuned!