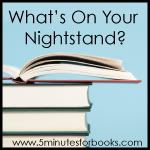 Time again to check in the Nightstand to see how much progress we've made and to set reading goals for the following month. This meme, by
5 Minutes for Books
, really is fun. I find it a good way to keep myself on track and set reading priorities for each month.
Last month I said I wanted to read the following:
Charles Dickens'
A Tale of Two Cities
. I was planning on reading it alongside my friend Sky but I just couldn't do it. I got a few chapters in, my eyes were glazing over, I was bored enough to not want to read anything at all and I think I just need to firmly admit and vow unto myself that I do not like Dickens and have no intention of ever reading him. I glanced back to see what happened
the last time I tried to read Dickens
and I see I fared no better. We are just not made for one another, he and I. (For the record, Sky didn't make it through either. So I don't feel so very alone. Our respective life circumstances right now make us more keen on light and fluffy fiction than .... well, Dickens.)
The Collected Tales of Nurse Matilda
. (Linked to my review.) I did read all three books and disliked all three books about equally well. (No, perhaps I disliked the third the most because it was just more of the same.) I also watched the first
Nanny McPhee movie
and tried to watch the second (linked to my thoughts) and failed there too.
In Japan the Crickets Cry
. (Linked to my review.) Didn't like that one either.
Apparently March was a strike-out month where as the ol' nightstand was concerned! Ah well. So we move on!
In April I plan on having a baby so I'm not quite sure what all will be read. I can only guarantee the following, as I have them in my hot little hands and am already underway with them:
Following the success of
Jane Austen Ruined My Life
and
Mr. Darcy Broke My Heart
(both linked to my reviews), Beth Pattillo is releasing her third book entitled
The Dashwood Sisters Tell All
. I know I'm not the only one looking forward to this read and I can't wait to share more about it. (I also have a giveaway for this one so stay tuned with happiness and gleeful expectations.)
I'm pretty entrenched in "fiction mode" which is kind of unusual for me, but given the circumstances I feel the most delightfully entertained by it these days. I'd really like to read
Her Daughter's Dream
, by Francine Rivers.
I borrowed this one from a friend and it's my goal to read and return it before baby arrives.
Lastly, I've been poking my way through (and am continuing to poke along) Wayne Grudem's
Countering the Claims of Evangelical Feminism: Biblical Responses to the Key Questions
.
This is definitely a book that I've found one must linger in and I'm formulating my thoughts as I go along. I'll talk about it in the future but it is on my Nightstand to be read and digested over the course of a few months. More later.
Beyond that I'm afraid to predict. We'll just see what happens!
Now it's that fun time of the month when I get to hop around and check out what is on everyone else's Nightstands! Happy Reading and see y'all 'round!