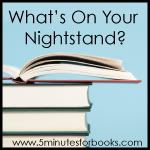 Time again to check in the Nightstand to see how much progress we've made and to set reading goals for the following month. This meme, by
5 Minutes for Books
, really is fun. I find it a good way to keep myself on track and set reading priorities for each month.
Last month I was "out" having a baby. So this month I get to start with a clean slate! That's always kind of fun. I definitely slowed down on the review copies in the last few months for a few reasons. The first reason is that I expected (and indeed have) less time to read than when I was in my two-children-phase of life. That said, I am not a crafty person and don't have to divide my project time up between sewing and reading, for example. Reading IS my vice and it doesn't have to stop completely. I do read a bit slower but I'm still reading.
I also slowed down on review copies because I have so many
older
titles that are either sitting on my shelf or come highly recommended to me and I want to have time to actually get around to reading them! I find I like not having the pressure of "having" to read a book because it landed on my doorstep. Still, there are titles here and there that catch my eye. Some are as follows, and I do purpose to get to them this coming month:
A Meal with Jesus
:
Discovering Grace, Community, and Mission around the Table
is a new title from
Crossway Books
which caught my eye. I've gotten started on this one already and should have it completed sooner rather than later.
When
Praying for Your Future Husband
:
Preparing Your Heart for His
(new from
WaterBrook Multnomah
) arrived in our mailbox, Jonathan asked me if there was something he should know about. I was just
curious
. I still like reading books from the single's perspective. Plus, now we have a daughter and I'm curious to know what Gunn and Goyer have to say about praying for your future spouse. Thoughts forthcoming!
As for "personal reads" that are sitting on my shelf awaiting attention, I have the following:
Unbroken
:
A World War II Story of Survival, Resilience, and Redemption
came highly, highly,
highly recommended by Amy at Hope is in the Word
. If you click that last link it will take you to her post wherein she makes the prediction that this will be one of her top reads in 2011. Now -
I ask you!
- how could I resist a statement like that?! I ordered the book before Bookworm3's arrival and I'm hoping to get to that in the next month.
Lastly, I'll mention a book that
Stephanie at Stephanie's Mommy Brain recommended
. (Click on that last link to read her thoughts.) Several of you read and seemed to really love this book. Stephanie's reaction to it put me over the top and I snatched a copy up intending to read it post-baby. Well, it's post-baby time now! I trust you, Stephanie!
Other than these books I should point out that my thoughts are starting to shift towards the
Chronicles of Narnia Reading Challenge
which I will be hosting again this July. I'm currently trying to narrow down my reading list for June/July.
If you'd care to join in, I invite you to start thinking on what you will read either alone or with your kids this summer! I'm definitely looking forward to it! Stay tuned for more info on that.
Now it's time for me to pop around and see what's on everyone else's lists so that I can make my list longer. (
sigh
)