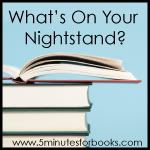 Time again to check in the Nightstand to see how much progress we've made and to set reading goals for the following month. This meme, by
5 Minutes for Books
, really is fun. I find it a good way to keep myself on track and set reading priorities for each month.
Last month I set the following goals (the titles are all linked to my reviews):
A Meal With Jesus
- I thought it was a rather thought-provoking read. I didn't agree with all of it, but it's definitely interesting.
Praying for Your Future Husband
- Read it. Loved it. Highly recommend it.
Made to Crave
- Read it. Loved it. Had a hard time talking about it.
Unbroken
- Didn't get to it.
This month I purpose to read the following:
I received a copy of
When Bad Christians Happen to Good People
:
Where We Have Failed Each Other and How to Reverse the Damage
from
WaterBrook Multnomah Publishing
and I rather suspect that a good many of us will have a few things to say about this title.
Speaking of having things to say . . .
I couldn't resist reviewing a copy of
God Behaving Badly
:
Is the God of the Old Testament Angry, Sexist and Racist?
when it was offered. This one just beckoned to me and I'm sure it will be interesting.
From my home book shelves I am planning to read
Anna and the King of Siam
because I keep saying I want to and I just haven't done it yet.
It's a short and easy read, easily doable. I just need to
do
it.
Mostly though - I intend to spend the majority of July focusing on various books in (and about) the Chronicles of Narnia series.
That starts up
THIS FRIDAY
and I'm so looking forward to it! I've been reading books with Bookworm1 and we watched the movie for the first time together. Very much looking forward to sharing our experiences and reading about yours during July!
What do you all plan on spending your summer months reading? I look forward to finding out when I go out checking on your nightstands later today.
Happy Reading, All!