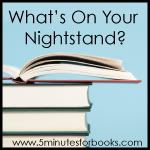 My
last nightstand post
was in August. We were out of town in September so I missed participating in this carnival in more ways than one last month. I absolutely LOVE this event which is held on a monthly basis over at
5 Minutes for Books
. If you've never participated before, check it out! It's a great way for me, personally, to narrow down my reading list for the upcoming month, giving myself reasonable reading goals to keep myself on task. (Not that reading should be a task or a chore, mind you, but with three small children underfoot - a list is helpful!)
Back in August I said I wanted to read:
* Winston Churchill's series on World War II
*
Before the Last All Clear
*
Unbroken
The later two are linked to my reviews, as I did manage to get to those two titles.
Churchill has been an interesting read. For one thing, I recognized once I got started with the first book in the series,
The Gathering Storm
, that this was going to be
A Project
for me. A worthy project and one I find myself taking great delight in. I
love
reading Churchill's history of World War II and am working on a reader's diary post as I move through it.
The bad thing is, my dreams started featuring certain terrorizing aspects of the war and I've woken up in a cold sweat with a pounding heart in the last week, regretting the fact that our home does not have a bomb shelter attached to it.
(Rather terrifying.)
Everything about the war is working its way in and while I very much enjoy learning about it, I think I need a bit of a distraction from it every now and again. All that to say, I'm moving through it slower than I anticipated because I'm trying to break up the intensity of it with "lighter" reads.
So, checking in with my
Fall Into Reading challenge post
, I think I'll put these books "on my nightstand" for the month of November:
1.
A Sound Among the Trees: A Novel
. Several of you mentioned that you've read Meissner before and enjoyed her works so I'm looking forward to getting to this one. Actually, I was approached about review this one and I declined it but my contact at the publishing house encouraged me to give it a try. She has an inkling I'll like it. She's usually right about what I like and don't like and since she ignored my initial "Thank you, but no." I'm going to do it. (I really like it when the publicists get to know you and learn what sort of books you gravitate to. It's so delightful, really!)
2.
Lit!: A Christian Guide to Reading Books
The title should explain my enthusiasm and anticipation for this read!
And two books
not
on the Challenge list:
3.
The Painted Veil
, by W. Somerset Maugham (I HAVE to read this one by the end of this week, actually, for bookclub!)
4.
Growing Grateful Kids: Teaching Them to Appreciate an Extraordinary God in Ordinary Places
. I picked this book up last spring with the intention of reading this one before the holidays. If I don't read it before the holidays, I'll kick myself.
Now's the time!
So I'll be working my way through this one - hopefully sooner, rather than later.
So, that's what's on my nightstand this month and why. What's on yours? I'm looking forward to finding out!