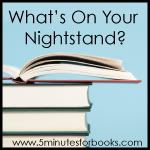 Well, I wasn't sure I was going to make it to the
What's On Your Nightstand party
this month but I hate to miss it.
What HAS been on my nightstand?
Daniel Deronda, by George Eliot
. That pretty much took up the entirety of the month of August. Not that I'm complaining. It was a very intriguing and entertaining story. If you haven't read it, I recommend it. Don't let the length scare you. Just know that you probably won't be able to read anything else at the same time. (
heh
)
As for the month of September, it has been a blur. I finishing
Daniel Deronda
and have been trying to get to some review copies. I read the following books which, not only do I HIGHLY recommend to you, but I also would encourage you to check out the reviews because I have three copies of each of these titles to give away:
* Extravagant Grace, by Barbara Duguid (giveaway closes TODAY!)
* Housewife Theologian, by Aimee Byrd
Currently I am reading:
The Jungle Books
, by Rudyard Kipling in conjunction with the Reading to Know
Classics Book Club
.
And the bookworms and I are making our way through
A Nest for Celeste
which was
recommended by Stephanie
some time ago and which we are very much enjoying.
As for what I plan on reading during the month of October? Well, I'm starting to submit to the idea that there is far less time available for me to read than there was before. Between home schooling, church activities, travels and fun, and everyday family living, I'm short on time. You'll have noticed that there is not virtually NO posting schedule here at Reading to Know of late. I post where there's time to write. I love to write and keep track of the books I read, so I won't plan to stop. However, I also am not going to keep up with the pressure of review copies, in particular. Yes, I'll still accept books for review but I've become even choosier. Anyway, searching for the balance and not wanting blogging to take over my family, I'll move along and do what I can!
I'm looking forward to reading
The Picture of Dorian Gray
(also in conjunction with the
Reading to Know Classics Book Club
).
Rebekah
is hosting this next month's discussion so look for a post from her soon.
The ladies at my church have formed a book club and this month we're going to be reading
The Zookeeper's Wife: A War Story
. I was suspicious of the title at first, however several of the ladies have already read it and said it was awesome. It's based on a true story set in WWII so I'm curious. I have hopes for this one and am looking forward to diving in.
And I accepted a copy of
Crazy Busy: A (Mercifully) Short Book about a (Really) Big Problem
, by Kevin DeYoung from Crossway Books and I'll plan on reading that.
Lastly, I'm re-reading
The Fruitful Wife
(linked to my previous thoughts). I don't know that I'll necessary review my thoughts on it
again
but I am re-reading it.
Those are all my immediate reading plans.
And while I read I intend to enjoy many fall beverages, such as
this one
(over and over again).
Happy FALL to you!