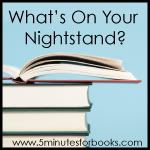 Time again for Nightstand! I haven't participated in a few months but, as a result, I kind of lost track of my reading goals near the end of January and wandered about a bit listlessly. So I'll kickstart my February by jumping back into my favorite meme hosted by
5 Minutes for Books
.
This year I have purposed to read more of the books on my shelf, followed by books I've purchased for my own reading pleasure, than books for review. So far, so good. I've only accepted a handful (literally - I can count them on one hand!) of review titles and I'm not interested in any of them taking over my entire reading life. I am reveling in the freedom to read whatever I like whenever the fancy strikes (no deadlines/timelines/other requirements). Reading freedom is an amazing thing (I had forgotten about...). The downside is that once I'm done with one book I'm more apt to wander about wondering what to read, exactly, because the entire reading world is open to me at once. (That can be a little deliriously overwhelming.)
Note: I am
not
saying that I am no longer accepting review titles but I
am
glorying in the ability to choose my reads book by beautiful book! I'm just becoming way more picky about what I will accept.
That explained, here is what I'm thinking I'll read this coming month:
I'm finishing up re-reading
Magic for Marigold
(which, by the way, is being republished in April 2014) in conjunction with the
Lucy Maud Montgomery Reading Challenge
which I host here every January. I'll have it finished by the end of the week.
It's nice to squeeze one more Montgomery into the month.
There was also some pleasure taken in throwing an
Anne of Green Gables tea party
(locally) as part of this reading challenge. I love starting off a new reading year with Montgomery and I love concluding it with friends!
I will be re-reading
Little House on the Prairie
aloud to my kids this coming month. We've already read this title and, while I was tempted to move on to another title in this series, I don't think a re-read will hurt them. We'll be reading this one along with the
Reading to Know Classic Book Club
and also to participate in Barbara's
Laura Ingalls Wilder Reading Challenge
which she hosts over at
Stray Thoughts
.
I picked up a copy of John Piper's
The Passion of Jesus Christ
which I've begun reading as a devotional along with my Chronological Study Bible reading. (I've never read the Bible chronologically before. I've attempted it but never followed through. This time I purpose to see it through. It's laid out in readings for one year. Feel free to check in with me at any point this year and ask me how I'm doing with it. Lecture me if I've let it fall.)
Lastly, I'm working through the
The Complete Father Brown
stories by G.K. Chesterton which I've never read. I'm reading these along with
Annette
. (It's always fun to read along with a friend!) Both of us are a few stories in and I'm positively loving it!
I'm pretty sure those things alone will nicely fill up my time but I have plenty of books floating around my house to pick up whenever moments present themselves. The above listed titles are just the ones I'll be most focused on. Like, for example, the third book in the
Incorrigible Children of Ashton Place
series is still staring at me in the face....
So what's on your nightstand? I'm off to find out!