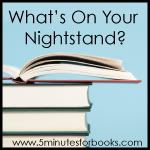 Oh, Nightstand,
how I love and hate you. You remind me of all that I want to read and all that I was not able to get to. Yet I still cannot resist participating in this monthly meme, hosted by
5 Minutes for Books
. Although it's almost like torture, I'll continue to plot a course and see how closely I can stick to it.
This past month I have focused almost exclusively on Narnia. I absolutely love
The Chronicles of Narnia Reading Challenge
, hosted every year in July right here at Reading to Know.
This year I read
The Horse and His Boy
aloud to my kids and we just finished reading
The Last Battle
(review forthcoming). It's been a lovely month in Narnia and, if possible, I love it more than I ever have in the past.
Also in conjunction with the reading challenge, I read
Live Like a Narnian
(linked to review). I can't say it was my favorite or that it was completely awful. It's just not my first choice. It's worth noting.
Currently, the kids and I are reading
101 Dalmations
together along with the
classics book club group
.
In July I also managed to read the following, all titles linked to my reviews:
I am currently in the middle of the following titles (slowly poking my way through):
How the Heather Looks: A Joyous Journey to the British Sources of Children's Books
Remember, Remember (The Fifth of November): Everything You've Ever Wanted to Know About British History with All the Boring Bits Taken Out
(Only $0.99 on the Kindle. But I am not reading it on the Kindle. I have a hard copy.)
Other Books I plan/hope to read may include, but are not limited to:
Beyond that, we shall just see what happens!
Now I'm off to see what you mentioned your nightstands so that I can make my own reading list longer and more complicated.