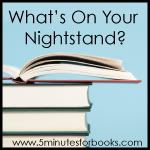 Oh ho. Another month has gone by, lickety split! Looking back on my predictions for last month's nightstand, I find it to be something of a joke. I pretty much read absolutely nothing whatever on the list. However! I have a good excuse. I spent this past month flying through books 4, 5, 6 and 7 of the Harry Potter series. There went my reading time and, to be honest, I do not regret a moment of it. Loved every minute!
Here are some of my thoughts regarding
why I think Christians should and shouldn't read Harry Potter
.
As for me:
Since I was so successful predicting last month's reads, I was debating the purpose of writing up a nightstand post. But let's pretend that I'm the type of person who makes lists and then follows them and see what we might manage to accomplish, reading-wise, this coming month.
I am keeping up with my Bible reading. Still working through a One Year Chronological Bible.
I am also slowly still working my way through
Remember, Remember (The Fifth of November): Everything You've Ever Wanted to Know About British History with All the Boring Bits Taken Out
. I am liking it. I would also really like to finish it up really quickly so that I can list it as "complete" on next month's nightstand.
My house is still filled with books that need my attention but I don't think that's ever going to change. I am most excited (at the present) to get through:
Redwall
The Land of Stories: The Wishing Spell
(I picked up a copy at Barnes & Noble and it looks fun!)
Lady Catherine, the Earl, and the Real Downton Abbey
I could list more but then it would only be a half hearted list. I'm afraid I'm still mourning the end of the Harry Potter series. I can't bring myself to pick up another book just yet so I may be something of a slow reader in September, I don't know. Time will tell.
Off to see what's on your nightstands next....