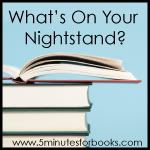 I think it's time to jump back into the game with this Nightstand business. I've been absent when it comes to participating in these meme for the past few months as we were concluding the adoption of, and adjusting to, Bookworm5. It's been a hectic few months around here and the reading has been
most
sporadic -- but it has still happened! I just haven't written about it. I have to say it's nice to feel life settling down just a wee bit, enough to make a few reading notes and plans again.
I'll keep my reading goals simple for the next month.
1. Chiefly, I'm reading through some Narnia books with my kids for the Chronicles of Narnia Reading Challenge
which is hosted here at Reading to Know every July. This will be the SEVENTH year for this challenge and regardless of who else participates, I am always grateful for the excuse it offers me and mine to travel back into one of my all-time favorite worlds.
We've begun reading
The Lion, the Witch and the Wardrobe
to kick things off. We read this title last year but I offered to read whichever title the kids chose and this was the one that they picked! (Who am I to argue? Besides, they are all good!)
2. Secondly, I'm in the middle of reading Paper: Paging Through History.
Doing a bit of research. The book may sound dry but it isn't . . .
thankfully
.
3. I am also halfway through the book Missional Motherhood, by Gloria Furman
. My opinion on this read hasn't been firmed up, but I can tell you that I purchased two additional copies to give to certain friends of mine that I thought would really connect with it. That's something of a vote of confidence at any rate! I like it thus far.
4. I will be reading Seventeen, by Booth Tarkington
both for pleasure and fun
and
also because it's my in-town book club's read for the month of July. It sounds terrific! I'm looking forward to it.
I don't think I should commit to much more than that. I'm grateful to be halfway through a couple of titles as it seems reasonable that I'll complete something by the end of next month! :)
As always, appreciate the nudge from the gals at
5 Minutes for Books
to think through my reading plans and make some decisions. Looking forward to seeing what's on everyone else's nightstands for this coming month as well.