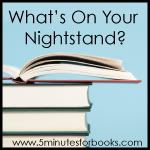 It's that time again! The ladies at
5 Minutes for Books
are hosting their monthly meme,
What's On Your Nightstand
, which gives readers an excellent opportunity to review their prior month of reading and plan for the coming month. I always find this exercise a little helpful as it helps to keep me on track with what I need to be focusing on, book-wise.
Reviewing last month's goals:
1. In conjunction with the
Chronicles of Narnia Reading Challenge
the kids and I re-read
The Lion, the Witch, and the Wardrobe
(
reviewed here
). We've also been reading
this children's biography
about C.S. Lewis which we've just about completed.
2. I hoped to finish
Paper: Paging Through History
but, alas, I haven't touched it. That book will roll forward into next month.
3. I finished
Missional Motherhood
. Review forthcoming.
4. I completed reading
Seventeen
, by Booth Tarkington. I've written up my review for that but am holding it back until my in-town book club has a chance to meet and discuss. Our meeting was delayed in July due to travels. But I'm all set to go!
Those titles were my official goals for the reading month of July. Of course, I strayed from the plan and read a few titles which were not on my list, including:
Up next for the month of August?
1. I really need to finish
Paper: Paging Through History
, by Mark Kulansky. That's on my list!
2. I checked out
Paper Wishes
, by Lois Sepahban from the library and ought to finish it before it's due to be returned.
3. Last week I received an ARC of
The Bicycle Spy
, by Yona Zeldis McDonough in the mail and that looks to have great potential. I'm looking forward to the read.
4. I'm halfway through
Sophie Quire and the Last Storyguard
which I am really enjoying but for one exception which I'll explain when I review it. It's a lot of fun though and I'm having a great time with the book.
5. The kids are begging to re-read
Prince Caspian
and so I suppose that's next on our joint reading list.
After that? Well, I'll just read whatever I feel like picking up. ;)
Now it's off to see what's on YOUR nightstand for the coming month!
Happy Summer to you!