BTW - the winner of the contest (Max Lucado books below) is #27 - Susan! Merry Christmas all!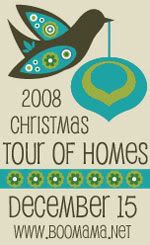 I saw this tour of homes referenced on
Jennifer's blog (Snapshot)
and knew I would just have to participate.
This year has been very fun for our family in that we completed building our log home. (In so much as the words "building" and "fun" can be paired together, that is!) Decorating for Christmas was something I was so looking forward to doing! I LOVE the season of Christmas and making a big to-do out of the holiday. December truly is my favorite time of the year! So here's a little bloggy celebration I'm quite happy to participate in. Some pictures of our front room and tree, some refreshments and then a little present for one of you.
The first picture here was taken tonight after our first snow. At the very tip top of our driveway we have a lampost that sort of gives off a
Narnia feel to it
. Or perhaps we just thought so
since that's what I've been reading lately
.
If you drove up our driveway, at the top of the hill, this is the side of our home that you would see first.
Hop on out of your car and run up to our front steps. We'd ask you to take your shoes off once you came inside (there's a lot of rain where I live which results in a lot of unavoidable mud!) and then get cozy and plan on some fun fellowship.
We'd invite you to have a seat on one of our couches. (I recommend the bigger and more fluffy one for comfort's sake.) We'd have the tree lit, of course, and the lights would be dim.
You can see up in the loft area I hung some greenery and put more lights on the railing up near the top. (It's not very evident in this picture but if you stand in the middle of the great room, you are surrounded by Christmas lights on all sides.)
Here's a close-up of our tree:
And best of all - here are the inhabitants of the house who would be here to delight you with toddler renditions of Away in a Manger in which Jesus is sometimes asleep on the hay and sometimes not.
While you were here, we would of course offer you some refreshments. The following is one of our favorite desserts. Although it's not really a Christmas themed sweet, we like it year round (it's very simple, more on the healthy side and still delicious!).
PEACHES & CHERRIES
(the title really isn't all that creative)
1 1/2 cups white Zinfandel, rose wine, or cranberry apple drink (*We used white Zinfandel.)
2 inch stick of cinnamon
3 medium white or yellow peaches, halved and pitted (or a bag of frozen)
1/2 cup sweet cherries, pitted
1/3 of a 6-ounce package of white chocolate (or 1/3 cup of white chocolate baking chips)
1. In a 10-inch skillet, bring wine and cinnamon to a boil. Add peaches and cherries; reduce heat. Simmer, covered, for 10 minutes or just until peaches are tender. Using a slotted spoon, transfer peaches and cherries into shallow serving bowls.
2. Cook remaining wine mixture, uncovered, over medium heat about 10 minutes or until reduced to 1/2 a cup. Remove and discard cinnamon. Spoon liquid over peaches and cherries.
3. In a small microwave-safe bowl microwave white chocolate chips. (*I melted them on the stove and used a little butter and milk to thin the chocolate.)
4. Transfer cooled chocolate (I didn't cool it.) to a self-sealing plastic bag; seal bag. Squeezing gently, drizzle melted chocolate over peaches and cherries. (Or, in my case, grab a spoon and "drizzle" the chocolate.)
And I'm the kind of person who really loves to give gifts - big or small. Just "a little something" to let you know that I'm thinking about YOU specifically. So of course, I'd have a present for you!
I've reviewed
Just the Way You Are
and
With You All the Way
for
5 Minutes for Books.
You can read the review of these
Max Lucado books
here.
I have one hardback copy of each of these titles to give away to one reader or visitor of this blog. All you need to do is leave a comment here with a valid e-mail address by Thursday, December 25th in order to win. I'll use random.org to select a winner. The winner will be notified no later than the end of the year and their books will be mailed off to them once the lines at the post office decrease. ;) (I'll gladly send you the books but I won't gladly stand in long lines this season! My holiday cheer only goes so far.) So leave a comment if you'd like to win (and even if you wouldn't - just say so in your comment). U.S. Residents only, please.
Hope you are enjoying the holiday tour of homes! Let me know if your home is open for viewing as I'd love to visit you also! (Click here to go on more
Christmas tours
.)
Merry Christmas!