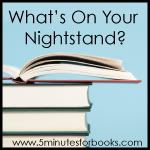 It's time AGAIN for
What's on Your Nightstand
over at
5 Minutes for Books.
Does anyone else feel like screaming because this carnival just swoops down upon you and swallows you up, laughing in your face about everything that you DIDN'T manage to accomplish the month before? No? Is it just me?
Bother
.
I just looked at
what I said I was going to do last month.
Ok, I don't feel SO bad but I still didn't accomplish what I said I was going to. I read my personal reads but went off track as far as
5 Minutes for Books
was concerned. So here is my proposed reading list, based on What's On My Nightstand for the month of March.
For
5 Minutes for Books
I still need to read:
1.
In the Shadow of the Sun King
. I still think the title and the premise/subject matter is interesting and I'm looking forward to reading it. I should just DO it, right? (I got distracted in my fiction reads this past month when I picked up
Fireflies in December
. I devoured
Fireflies
, absolutely loved it, think it's something that everyone should read, etc., etc., You can see my
review of Fireflies in December here
. It's an awesome book!)
2. I also have the book
Multiple Blessings: Surviving to Thriving with Twins and Sextuplets
in my stack for 5M4B which I'm looking forward to getting to here in the near future.
3. Lastly for 5M4B I think I'd like to dwindle down my stack a bit by tackling
The Astonishing Life of Octavian Nothing, Traitor to the Nation, Volume I: The Pox Party
which I'm really very curious about and eager to get into.
Then, of course, there is my list for my personal and private-to-public pleasure. This list is long, long, agonizing long, folks. (But I really wouldn't have it any other way, really!) The problem is mostly that I keep wandering into used bookstores and from there everything just sort of falls apart. I make no promises for the month but I've picked up some fun titles this past month for my own guilty pleasures. These titles below represent a small fraction of the books I have actually purchased. I'm thinking the season of Lent might be a good opportunity for me to refrain from collecting any additional books, ya think?
Be quiet, Jennifer. I'm not really asking YOU
. - ha)
1.
101 Dalmatians
, by Dodie Smith.
2.
The Door in the Hedge
, by Robin McKinley
3. Then I stumbled across
Cry Of The Icemark
and picked it up on a whim so we'll see what I think of that.
Lastly, I intend to re-read
The Mission of Motherhood: Touching Your Child's Heart for Eternity
along with
Stephanie
(of Stephanie's Mommy's Brain) who is hosting a little mini bookclub of sorts to talk about this book. She invited other readers to join her in the reading of it so I intend to pick this book up and do just that. I received this book as a gift from a dear friend of mine when I had my son. I read the book before I was a mother and had grand and lofty visions of exactly what that meant. I figure a re-reading might be in order right about now. I look forward to it and am glad for the chance to read it along with Stephanie!
These are my plans, folks, and we'll see how far I get with them! To see what other people are reading and to join in on the carnival, visit
5 Minutes for Books.
I'll be seeing you around, no doubt!