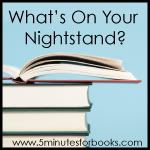 It's time AGAIN for
What's on Your Nightstand
over at
5 Minutes for Books.
This month my "nightstand" is OVERFLOWING! I was just about to type the vow that I wouldn't pick up any new books until I've read all of the ones that are already on my shelf. However, I don't think we should make promises that we do not intend to keep and although I may have the best of intentions I am greatly lacking in willpower. Guess I'll just have to keep on keeping on and trying to get through my stack!
Last month I said
I was going to read Book Two of Edmund Spense's Faerie Queen for my personal pleasure but that didn't happen. I also said I was going to read a lot of books by Lucy Maud Montgomery and that DID happen. It has been pleasurable but I have to say I'm ready to move on to something else and give Montgomery a break. (Shock, I know. Not that I couldn't read Montgomery forever but then you have to factor in the old proverb which clearly states that 'variety is the spice of life'.)
I also accomplished my reading for
5 Minutes for Books
by reading How to Be Like Walt and
How to Solve Your People Problems.
Check! Check! Now moving on. . .
This month for 5 Minutes for Books I am hoping to read some fiction books:
1.
In the Shadow of the Sun King (Darkness to Light Series, Book 1), by Golden Keyes Parsons.
(I don't think I've ever heard of an author with such an interesting name, have you!?)
2. Then I'd like to tackle another round of Wodehouse just because he's fun. I have sitting on my shelf here
Something Fishy
and
Nothing Serious
.
For my personal pleasure I'll be reading:
1.
The Remarkable Women of the Bible: And Their Message for Your Life Today, by Elizabeth George
and;
2.
Les Misérables
. Technically, I suppose, I'm rereading
Les Mis
for the
5 Minutes for Books Classic Bookclub
but I'm doing it out of pleasure so I'll keep it in this category.
And with any luck I'll also make it through more of The Faerie Queen. We'll see. The heart is definitely willing but the flesh is incredibly weak.