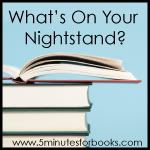 I have made a TON of progress on my
Spring Reading Challenge "pledge"
(to myself) but that did mess up my plans to tackle some things that were on my
nightstand last month
!
I DID manage to read Around the World in 80 Days
for the Classics Bookclub
over at 5 Minutes Books. It was my month to lead the discussion which I dutifully did (seeing that I was the one who recommended the read in the first place). We did NOT end up doing the podcast on it due to the fact that I received
news about my dad
which rather overshadowed everything else for me. Podcast got swept aside in favor of family. (*As a short note - this post was prescheduled just like the others have been this week. However, I'm taking some time to update this post with
the latest family news
. We had a rather shocking family development, which I mentioned yesterday. It's been a hard week.)
Regarding Around the World in 80 Days -
I stumbled across a game
which I think you ought to consider checking out to accompany your reading of Around the World in 80 Days. Rather fun all around.
The only other thing that I think I accomplished from last month's list was to read
Breach of Trust
, which I did. I enjoyed that book very much and recommend it.
I even read Octavian Nothing this month and
you can see what I thought
about that over at 5 Minutes for Books. I also got wrapped up in reading
The Love Story Behind Gone With the Wind
(which was a mere 517 pages!).
Whew!
This month I'll be taking it easy in light of our recent family developments. I really want to dig into what it means to be a Christian through the good times and the bad times. If I didn't believe God had a plan for our lives, I would be devestated. While my heart is being broken, God is working to fill it back up and offer His comfort and peace in the midst of this very difficult storm. In the meantime, these are the books I'm visiting at present:
1.
The Bookends of the Christian Life
. I'll be reading this book along with Lisa and doing a joint review over at 5M4B which I'm looking forward to.
2. Then, because I really need to, I'm reading
Hinds' Feet On High Places
. I needed a bit of encouragement and this is where I'm choosing to find it these days.
We'll see how far I get in anything! No promises. I do have posts set to publish and I'm going to let those run. In the meantime,
prayers for my family
are greatly appreciated.
See you around!