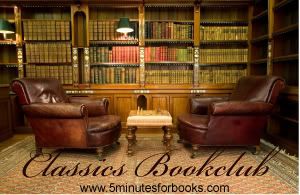 It's been a little while since I've participated in the Classics Bookclub. I HAD to read
Rebecca
. I've read it twice in the past and I enjoyed it just as much this time. (Sad but true facts about myself: I cannot remember stories very well so I'm happy rereading books. So far, each reread of Rebecca has been fun because I can never remember how the story plays out. The reason I started a book blog in the first place was entirely for myself - so that I could write out my thoughts on books and therefore remember them with more clarity.) I also came to the conclusion that after this particular reading, I would never read it again. Why's that?
Although I think that Daphne Du Maurier is an extremely clever writer and makes beautiful usage of the English language, she also wrote a very broken story with Rebecca. What do I mean by that?
Broken stories portray accurately evil as evil and good as good, but evil wins. Something is broken, not right, in need of fixing.
In the case of
Rebecca
, we meet an unidentifiable, but young female, who meets Maxim de Winter who is "on holiday" in Monte Carlo. The female (who is never directly named) is the story teller and through her eyes and emotions we have fellowship with the other main characters in the book, namely Manderely (which is a character in its own right), Maxim (her husband), Rebecca (Maxim's first wife), Frank (Maxim's best friend and business advisor) and Mrs. Danvers (the housekeeper).
***Spoiler alert***
The story revolves around our story teller's fixation on Maxim's first wife, Rebecca, for whom the book is named. Throughout the book a picture is built of Rebecca. We are given tidbits about her beauty, wit and charm as she is presented to be the best of women, loved by all and all together good. It is only as the story unfolds that we see that Rebecca is not "all that" and that Maxim hated, and not loved, his first wife. In fact, he hated her so much that he killed her. Suddenly, the new Mrs. de Winter (and our story teller) discovers that despite all of her insecurities as a wife of Maxim and mistress of Manderely, he really loves her and her alone. Because of the love that she discovers that Maxim has for her, she will do anything to keep him safe from the consequences of the law. In short, she wants to do everything in her power to keep him from facing justice. She wants to do everything in her power to keep the law away from them and their apparent happiness.
When it appears as if Maxim is going to face criminal charges for murdering his first wife, he seems almost resigned to the fact that his free life, as he has known it, is about to come to a close. He assumes that he will be brought before the court and condemned a criminal. He cannot see his way out of that. However, his current and unnamed wife, convinces him that they still have a chance for happiness if he will not made any admissions and assures him that it will be hard for anyone to point him out as the murderer. He hopes in her proclamations and, while not trying to hide the facts of his crime, simply offers up no confessions. He carefully sidesteps issues of responsibility so that he is free to continue on about his life and with his new wife at his side, content to lead a quiet life together where no court of law or sense of justice can interfere with their marital bliss.
In all respects, they seem to succeed in this.
Now, they do live in a grand house/estate affectionately known as Manderely. According to the
Daphne Du Maurier website
, Daphne was a child, she went to stay in a house called Milton that was rather grand in appearance. When she was older she met another house named Menabilly that captured her imagination and it is assumed that the two homes combined inspired the setting for
Rebecca
, known as Manderely. Manderely itself has a sense of grander to it. It also has places of wild that are unpredictable, being that it is situated right next to the sea. Parts of Manderely appear that they cannot be tamed, although other parts are incredibly beautiful. Maxim loves his family home and estate and will stop at nothing to protect it. Manderely has a certain aura about it that makes the reader long to both love and protect it themselves. However, all good things must come to an end and I'm HALF tempted to say that the complete story of
Rebecca
ISN'T a "broken story" because in the end, the de Winters lose their beloved Manderely to a fire. Their home, which they tried so hard to protect and shield from murder and bad press, is lost in a blaze that destroys everything that the de Winters held dear. That seems to be the only price that they have to pay for their sins and even though it's not enough, it does seem to satisfy some inner craving for justice. It's certainly a step in the right direction but is it satisfactory enough? I cannot decide. But I lean towards saying that the story is broken and therefore I lose any desire I might have to reread it again.
Apparently I'm not the only person who is unsatisfied with the ending that Du Maurier gave to her classic tale. Other people have come along and tried to conclude the story on her behalf.
In 1993 author Susan Hill had her work
Mrs. De Winter
published.
In 2001
Rebecca's Tale
was published.
I haven't read either book but the fact that they exist tells me that we have an inner desire to have stories completely told to us and others are equally unsatisfied with Du Maurier's attempts. (It's kind of like
Gone with the Wind
. We want conclusion to that story but I would argue that it is NOT broken and stands alone. Scarlett behaved badly and made poor decisions and paid for her actions in an appropriate manner. The end.)
De Maurier herself said that
Rebecca
was a study in jealousy.
James 3:16 says:
For where you have envy and selfish ambition, there you find disorder and
every evil practice. (NIV)

For where jealousy and selfish ambition exist, there is disorder and every
evil thing. (NASB)
This is exactly what we see come to pass in Rebecca. There is a great amount of jealousy.
1. Jealousy of the general public towards Manderely and the elegant lives that the public assumes the owners have.
2. Jealousy of the story teller towards Rebecca.
3. Jealousy of Maxim in guarding his beloved Manderely at all costs.
4. Jealousy of Mrs. Danvers towards the new Mrs. de Winter.
There are painful lessons learned all across the board. Jealousy has indeed created strife, selfish ambition and every evil thing - including murder.
The dissatisfying conclusion is that Maxim gets away with murder. This tugs at the heart because we want the new Mrs. de Winter to finally experience love and affection from Maxim and it seems the only way that will be possible is if he is not punished for his crime. Part of the reader cheers when love is finally acknowledged and satisfied. Du Maurier was a good story teller herself, drawing the reader in by presenting a main character who you pitied and felt sympathetic towards. When Maxim finally tells her he loves her, you don't want him going
any
where. But he simply must because he has murdered.
However, the story concludes with Maxim and Mrs. de Winter escaping with their lives and their mutual happiness, although they do lose Manderely. It's a good story. It is engaging. It is tempting on all levels. But in all of that, the story is not satisfactory because what
needs
to happen does not come to pass.
Did I like this story? Oh yes, I did. I loved it!!! (Otherwise I wouldn't have read it three times and kept it on my personal bookshelf.) But can I enjoy it again? No, I can't. It's beautifully done and it IS a good study in jealousy. It's a
brilliant
study of jealousy. But it concludes poorly and I can't revisit it again. Good. Brilliant. Broken.
And completely fascinating to me!