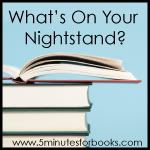 I almost feel ridiculous posting about what's on my nightstand because I didn't really accomplish very much of what I set out to do
last month
. Instead, I started study for and taking some Western Civilization exams and got bogged down fellowshipping with the Greeks and Romans. Everything else got lost in the fray.
THIS month I'm not going to tell you what I plan to read and review for
5 Minutes for Books
because I go completely on whim there (to some extent) and for that matter I go on whim here too. But I feel better about making claims for
Reading to Know
this month. (The only thing I guarantee for this month relating to
5 Minutes for Books
is that I DID read
The Guernsey Literary and Potato Peel Pie Society
for the upcoming bookclub discussion on September 1st. Stay tuned for that! And if you haven't read it yet but want to?
Get started
! It's EASY reading and lots of fun so you have plenty of time!!!)
With all that said, here are my top reads for
Reading to Know
this month. The thing I like about them is that they are SURE to cause some discussion and I've gotta say that I'm very much looking forward to thinking through these books:

(And yes, I'm grinning like the cheshire cat!)

For FUN I'm going to read (not to say that the titles above aren't fun, because I very much think that they will be!):



I want to read that book because I was asked to review this book:




The book sounded way too interesting to pass up so I'm anxious to dig in and learn about L. Frank Baum (and finally read this classic story)! Can you believe I haven't? I've only ever seen movie so I'm curious to read the book.

Lastly, as I mentioned last month, I still want to get to Lucy Maud Montgomery: The Gift of Wings
.

Hopefully you'll see all of these titles pop up on this site within the next month. If you don't, threaten me with something. I don't know with that. Think of something. (What's the equivalent of a bloggy threat? I'll UNSUBSCRIBE if you don't read these!!!! Or, in keeping with "I won't invite you to my birthday party" it should be, "I won't follow you anymore." If that's not motivation, I'm not sure what is, right? Just make sure you put one hand on your hip and stick that hip out WAAAAY far when making those violent threats! Otherwise....I might not believe that you mean it!)