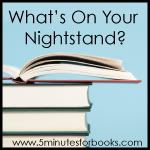 Last month's nightstand
was pretty much all about wrapping up the
L.M. Montgomery Reading Challenge
and reading for the
Children's Classics Mystery Challenge
.
I'm still focused on completing the Anne series, hoping to delve into
Anne's House of Dreams
this month. And I AM still working on the Children's Classics Mystery Reading Challenge, hoping to hit on some Trixie Belden this coming month, as well as read the last two books in the
Cherry Ames Series
. (If you missed reading about the Cherry Ames series, click
HERE
and catch up!)
At the present moment, however, I am delightfully mystified over what I should be reading next. My nightstand is groaning under the weight of works of fiction right now (which is not typically my genre of choice, although I do enjoy a good piece of it) and I'm not sure what to read next. Here are a few from my stack:
I look at the cover art on all of these and I kinda want to start singing, "One of these things is not like the other ones..." And I want to read that one just for color coordination purposes!
As I look back over the past few months I see just how much non-fiction I am attracted to and so it's kind of fun to hit the fiction for a change. It's a different kind of challenge for me because part of me says, "But you aren't LEARNING anything!" from such titles (even though that's simply not true) and the other part of me says, "But you are having FUN and doesn't that count for something!?" Sometimes mommy just needs to have fun. Would you agree?