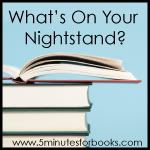 A WHOLE HEAPIN' LOT -
that's what!!!
I missed last month's nightstand because I was in NYC with Jennifer - preparing to bury my "nightstand" under a new stack of books. Now I'm home again and, I have to say, becoming a bit overwhelmed at the sheer quantity of books that there are to read in this world (and, more to the point, on my nightstand.) I think this month's Nightstand post calls for a picture.
This, my friends, is my desk where I blog to you from. Yes, that's right - I blog to you when I can find a place to sit down and find the keyboard to type on, that is. One day soon it will return to the neat and tidy stack that it usually is. The
Book Expo
just caused a "minor" explosion - that's all.
I am not bored these days. Overwhelmed, perhaps, but definitely not bored.
Even with all of this though - I'm really getting excited about
The Chronicles of Narnia Reading Challenge
which I'm hosting here during the month of July.
I'm going to spend this next month re-reading
The Voyage of the Dawn Treader
(linked to my earlier review of the book) and comparing it/gleaning from it while reading Proverbs alongside. I'm going to be using a new resource from Concordia Publishing -
Proverbs: a Theological Exposition of Sacred Scripture
.
I believe that there is much to be drawn out of the Narnia stories and I want to see how it lines up with the wisdom book in scripture. I think this is the perfect title from the Narnia series to do this with. And, I confess, I want to make sure I re-read this particular story before
The Dawn Treader movie
(click on the link to see the trailer!) comes out this December!
Part of the fun of going to Narnia is to go with others. I'd love to drag as many of you along with me as I go, so if you want to learn more you can check out yesterday's post on
the Narnia Reading Challenge
to find out more about that!
And with that - I'm off to check out what's on everyone else's nightstands this month!
Happy Reading, All!