Ahhh, it's time to wrap up another year.
Semicolon
is hosting a "Wrap-up" edition of the Saturday Review of Books so if you'd like to see what other people are thinking about their past year of reading, or planning for the next, hop on over on Saturday the 1st to
Semicolon Blog
.
As for me, I glanced through my list of titles read last year which I keep a running tab on over on the
Master List
. (If you ever want to know what I've read or how many books, I keep
The Master List
linked on my side bar.) This year I read 142 books, besting my 2009 reading self by 10 titles.
Only this year I think I'm less excited by any particular book I read than I was in 2009. (The year of
The Great Mysterious Benedict Society Addiction
!) I think too many review copies bogged me down and got in the way of my reading books that I honestly would find more beneficial. Not to say I didn't enjoy myself! I DID! Thoroughly. I read a great deal for fun and entertainment purposes and I achieved that goal. But when I look back, I see very few things that I find very memorable. Which is kinda sad in some ways (but not in others!).
If I had to list my most influential reads, I would have to point to Charles Swindoll's Great Lives Series where I learned the following things:
1. I am created for a purpose (
David
);
2. God will work that purpose in His time frame (
Esther
);
3. God will work in ways that may be painful, but He will teach me to live in the pain, through the pain and beyond it and can work in me a tender heart as a result of it (
Joseph
);
4. God honors faithful obedience (
Moses
);
5. God moves us into periods of quiet solitude where we can be alone with Him, in order to mature us (
Elijah
); and
6. It is not for me to compare my journey to the journey of others (
Paul
);
7. I should be careful how to discuss and discern the journey of others (
Job
); and
8. God has great lessons to teach each individual person, and frequently He'll use us to teach others (
Forgotten Lives
); and
9. I have a lot to learn (Jesus.)
(Names all linked to my reviews/thoughts.)
That was a particularly awesome and meaningful series for me to pick up on in 2010.
As for what I think the next reading year will look like - I do not think I will speculate on it much. I will say this:
1. In January I'll be hosting the Third Annual
Lucy Maud Montgomery Reading Challenge
. Click on the link to find out more about that!
This challenge starts next week so get ready!
2. In July I will be hosting the Third Annual
Chronicles of Narnia Reading Challenge
.
3. I am also committed to
Reading My Library
again, noting admirable and notable picture books that my children and I have discovered at our local library. You can click on the button below to find out more about that! I'd kinda dropped the ball on that challenge for morning sickness reasons and lack-of-time sake but I kinda missed exploring new titles with my boys. Personally, I've already found my prior library explorations useful when my sons became interested in various topics. I know of book titles now that they will find particularly enjoyable! So the challenge is paying off for my family and it gives us a reading project to do together! Anyway, if you want to find out more about the
library picture book reading challenge
, follow the links!
4. In conjunction with the
Reading My Library Challenge
, I will also be participating in
Hope is in the Word
's weekly Read Aloud Thursday meme in which we share what we've been reading with our kids. I prefer to participate in this meme
over at Reading My Library
, since that is where a huge stack of our reading materials come from. But from time to time you might see a Read Aloud Thursday post pop up around here.
5. I'm joining Amy at
A Faithful Journey
by committing to read at least ONE Jane Austen book during 2011. (Surely I can do that, right?) Amy is hosting a
Jane Austen Challenge
which begins January 1, 2011 and lasts the entire year! You'll have plenty of time to participate, should you choose to do so. Sign up to participate and you'll be able to win a few prizes (none of which are shabby, I must say!) Learn more by visiting
this post at A Faithful Journey
.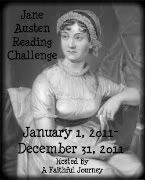 *Update: After thinking it over, I believe I will re-read Sense and Sensibility and watch the movie (Emma Thompson). Also, I'm kinda curious to re-read Emma. So, those will be my plans.
That, my friends, is about all I'm going to say as to my purposes and plans for the next year. I'm looking forward to hearing what all of you are planning on reading in 2011 and then, of course, I'm looking forward to diving on in!