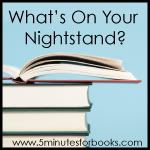 What's on my Nightstand?!?
Lots. Lots and
Lots!!!
I feel very behind. I debated whether or not to post a picture this month or just state an achievable goal to take me into the next month. I opted for the achievable goal so that I can look back and feel satisfied (I hope) and accomplished (I hope.)
This is all I really WANT to read to close out the year:
The Second World War
is a six volume set by Winston Churchill. I said I wanted to read it at the beginning of the year and I'm running out of time. I DON'T want to close out the year having not read them so I'd best get crackin'! I picked up a first American edition set of these books at our local used bookstore which I was really excited to find! Very eager to get into them. I love Winston Churchill. I could quote him all day long. I love learning more about him. And I love the World War II era because of the courage, daring, bravery and honor which seem spread throughout. Anyway...I'm about ready to pick those up and get started.
It seems all the books I really want to get to are related to World War 2. For instance, there's
Unbroken: A World War II Story of Survival, Resilience, and Redemption
which
Amy
recommended too many months back. I'd like to read that one.
I also accepted this one for review:
Before the Last All Clear
sounds rather fascinating, especially on the heels of the Pevensie adventures.
So many books, so very little time. And the knowledge that we are now entering the fall season and the year is almost over definitely motivates me to accomplish some reading goals I had wanted to set for myself before the year's end.
How 'bout you? Feeling the pressure of the end of August? Yowee, time is just
zooming
by!