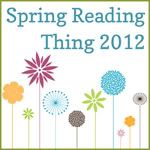 It is with some amount of fear and trepidation that I am participating in Katrina's
Spring Reading Thing
which she hosts over at
Callapider Days
. With all of the upheaval in our lives these days (following
The Great Smoke Out
) I'm not sure if I can truly accomplish any reading goals. This next week in particular promises to be full of house activity as we're *hoping* that we will able to move back in within the next two weeks. There are still lots of unknowns but there is plenty of work to be done to prepare the house.
On the other hand, a goal is probably just what I need to help me to prioritize my reads. So, without further ado (but with much thought and care) I think I will make the following my reading goals for the Spring:
Review Copies I Need to Get To:
1.
Escape from Camp 14: One Man's Remarkable Odyssey from North Korea to Freedom in the West
. I'm very much looking forward to diving into this one! I'm particularly interested in it, given the fact that our second born son was adopted from South Korea.
2.
Family Vocation: God's Calling in Marriage, Parenting, and Childhood
, by Gene Edward Veith, Jr.
3.
Secret Life of a Fool: One Man's Raw Journey from Shame to Grace
4.
A Prayer for Owen Meany: A Novel
, by John Irving. This is a modern novel (due out in April) but I thought I'd take a gamble on it.
Most excited for:
(Jonathan beat me to the book. I'm waiting for him to finish it.)
Reading to Know 2012 Bookclub Reads:
1. In April we're focusing on P.G. Wodehouse. I'd like to read at least two Wodehouse books.
2. In May we're reading
The Adventures of Tom Sawyer
, by Mark Twain.
Please feel free to join in for both (or any) months that you wish! I'm really hoping that people unfamiliar with P.G. Wodehouse, in particular, will give the guy a try in April! To find out what books are coming down the pike the remainder of this year, click on the button below.
Personal Reads:
1.
Emma
, by Jane Austen (A hoped-for re-read.)
2.
Pippi Longstocking
(Thanks to
Annette
who kindly sent me a copy!)
3.
Angels in the Architecture: A Protestant Vision for Middle Earth
, by Douglas Jones and Douglas Wilson. (Another re-read which I felt I really ought to get to after declaring it to be one of my top
ten spiritual growth books
. Also, it is one of the first books I received back from the cleaning company that actually came back smelling decent!)
4.
The Second World War, Volume 2: Their Finest Hour
, by Winston Churchill. (After completing
The Gathering Storm
last fall, I'm interested to move into the second book in Churchill's World War II series.)
Most excited for:
If I can make it through that stack, I'll be quite pleased!
Thanks, Katrina, for offering us the opportunity to prioritize our reading list. This certainly brings clarity to my reading processes and I'm grateful for the Spring Reading Thing reading celebration!