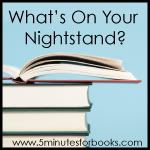 Yeah. I know. It's not Monday, Wednesday OR Friday but I'm going to make an exception to my summer posting schedule here because it's time for What's On Your Nightstand at 5 Minutes for Books and I don't want to miss it! (I need to figure out my goals here for the coming month.)

Primarily, my nightstand for the month of July is covered in Narnia because July is when I host the Chronicles of Narnia Reading Challenge and I'm READY for it!




I haven't yet decided which Narnia tale I'm going to dive into, but I do know that I'll be reading The Narnian by Alan Jacobs. ($5.98 bargain price on Amazon!)
Most of the books I want to focus on in the month of July all seem to have a similar theme to them: they either involve England or World War II.
Lady Almina and the Real Downtown Abbey
. I've already begun reading this one and I'm really enjoying it!
Their Finest Hour, by Winston Churchill
. Since I didn't accomplish this read during the Spring Reading Thing Challenge, I'm going to conquer it alongside Narnia. Which I kind of think is fitting (and makes me want to read
The Lion, the Witch and the Wardrobe
again)!
The Queen: A Life in Brief, by Robert Lacey
(which I accepted for review).
I think I shall leave it at that for this moment. No doubt there will be other titles snuck in here or there, but these are the ones which I am focused on primarily.
Off to find out what's on YOUR nightstand!