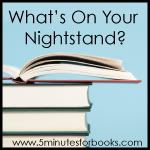 Nightstand time at 5 Minutes for Books! (I just get a kick out of this meme.)

I still like using What's On Your Nightstand as a chance to give myself a basic reading guide for the upcoming month. However, I don't seem to be able to follow my guide very closely. Of course, this month Dickens ruled the day for me and so everything else got shoved to the side. Here is last month's Nightstand.

How did I fare?


My reading plans for September include the following:
Professionalizing Motherhood
:
Encouraging, Educating, and Equipping Mothers At Home
, by Jill Savage is the September pick for the
Reading to Know Book Club
. This upcoming month's discussion will be hosted by
Stephanie's Mommy Brain
.
I told Sarah at
Library Hospital
that I would read
The Man in the Iron Mask
with her last month.
However, I mentioned Dickens . . . ?
I plan on catching up to her (although she may beat me) with that title this coming month.
Lastly, (for the sake of this post), I received for review and have already begun reading
Pursuing Peace: A Christian Guide to Handling Our Conflicts
. It is
very
good and I look forward to telling you more about it!
Other review titles I'll be working on:
We'll go from there!
So what's on your nightstand? I'm off to find out!