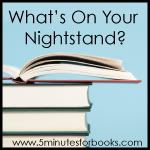 Time again for another What's On Your Nightstand over at
5 Minutes for Books
.
No need to keep repeating how much I love this meme is there?
The only thing
remotely
frightening about it is how it marks the insanely fast passage of time!
But let's get down to business, shall we?
Last month's months goals
were as follows:
1.
Carney's House Party
, by Maud Hart Lovelace. I did read this and the title is linked to my review. I thought it was so-so. Not my favorite Lovelace, but not my least! It's a very calm and relaxing sort of read and I do appreciate those!
2.
Winona's Pony Cart
, also by Lovelace. I read it (linked) and it was most definitely not my favorite of the Deep Valley books.
I read both of the above, and
Emily of Deep Valley
(linked to my thoughts) for good measure, in conjunction with the
Reading to Know Book Club
for the month of February in which we were reading the Lovelace books of our choosing. I hadn't read any of the Deep Valley books before this year and it was fun visiting with them, on the whole. (Emily is by far and away my favorite!)
3.
Pardonable Lies: A Maisie Dobbs mystery
. I read it. My review is over at 5 Minutes for Books. Not my favorite and I probably would not seek out another Dobbs book, but now I can say I've read one at least.
4.
Breakfast With Bonhoeffer
- This was a review copy and it was interesting. Ultimately I don't know that I care for it all that much but it had its moments.
5.
The Cats of Tanglewood Forest
, by Charles de Lint. I'm reading this one aloud with Bookworm1. We were bookin' it (
heh
) through this one when I got a head cold with accompanying sore throat. The book, unfortunately, has been sidelined until my voice recovers. It's a shame because we were both really wrapped up in the tale. I'll have my disclaimers, but on the whole I think it's really FUN! (We're about halfway through.)
Sooooo
, what shall my goals be for this coming month? Consulting both my bookshelves, review copies and
Spring Reading Challenge post
, I think I'll go with the following five:
1.
The Maid and the Queen
:
The Secret History of Joan of Arc
. This book has recently been released in trade paperback and I accepted it for review. I'm one chapter in and absolutely love it. I hope, I hope, I hope to love it still as we move along. I'm excited.
2.
The Miraculous Journey of Edward Tulane
. I picked this one up at the library book sale a few weeks ago. Then a friend of mine mentioned it was one of her favorite books. So I snatched it from the pile and intend to dive in shortly.
3.
War of Words
:
Getting to the Heart of Your Communication Struggles
. This one is on my Spring Reading Challenge list. As I mentioned, I started it previously and thought it was amazing but it somehow got sidelined. Time to pull it back off the shelf.
4.
Matthew (St. Andrew's Expositional Commentary)
, by R.C. Sproul. This is a new
Crossway
release which I accepted for review and am excited to read. (And I find the approach of this title a little daunting, I confess.) I've been re-working my way through the New Testament of late and am going to try to finish it (or get awfully close) before I start back over again. I find I can't really rush these things.
5. And then - the book I am probably the
most
excited to read this month -
No Name
, by Wilkie Collins.
Tim
is hosting the discussion of this book for the April edition of the RtK Book Club and I have been waiting for this read! I anticipate FUN! So glad he picked a Collins!
I'm rather looking forward to the month of April for a variety of reasons. My sister(-in-law) is graduating from college this spring and her senior recital is in April. The family will be traveling up here to attend the concert and we'll be hosting some of our very favorite people in our home! Then there is the joy and anticipation of hearing music which my sister composed. And it's admittedly a little exciting to be reaching the conclusion of her college days because in the not-too-distant future she becomes our next door neighbor once again and very shortly afterwards will be getting married! It's a big year for her and the family at large and this month kicks off the celebrations!
I just want to have fun this month. I almost feel like I shouldn't say that outloud - but it's true!
I just can't wait to celebrate so many things!